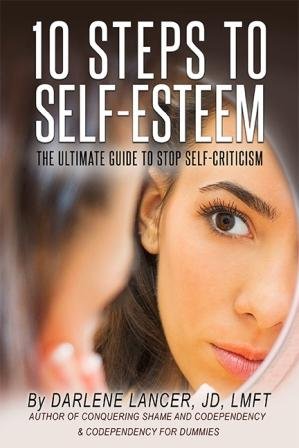 Very helpful November 8, 2018, By Van Nguyen
This book is short and easy to understand. It has many practical exercises You can do daily. Would recommend for people who want to have better self-esteem.

Five Stars July 20, 2016 By Vernon Banks
Very good.

Quick and insightful April 7, 2021 By Rocco Capra
Quick and insightful read with easy concepts and skills to practice and learn to change your self view from negative to positive.

Helpful October 22, 2016 By Angela M. Dokos
This is a short and to the point book. It's helpful and encouraging.

Five Stars February 5, 2017 By Lacy Nummer
I believe this can be used in my private practice.

Simple and Positive Dec. 1, 2016 By ZenKen212
This is a good one. This step by step method couldn't be simpler. I really can't find anything wrong with this book, which is surprising considering my internal critic is excellent in finding fault with a whole array of things.

Tangible steps with compassionate insightful guidance – highly recommend! April 23, 2022 By Maia
Her non-judgmental and experienced tone makes facing the work easier. If you take the time to work through these steps, even if you have a healthy relationship with yourself, you can uncover some limiting beliefs and saboteurs that are disguised as personality. I've feel a notable shift in how I speak to myself or jump to defensive stories. Approachable and effective if you are willing to do the work.

Step by step improve your Self-Esteem, Highly recommended August 15, 2016 By Perry
Follow step by step to improve your Self-Esteem. Highly recommended.

My wavelength connects and relates instantly July 21, 2019 By Nasir Mohammed
Very rightly said when the author states, "Once you start accepting yourself, you gradually stop worrying what others think and become more spontaneous and natural." The whole idea is to "never disown yourself" regardless of the criticism and carve your own niche in society. Do read it!

Effective insights, reminders, and a practical path to self-esteem August 6, 2014 By a customer
I highly recommend this book. Potential benefits include healthier relationships, success in business, and improved emotional health. Following Darlene Lancer's Ten Steps to Self-Esteem will increase self-esteem. It offers a minimum of theory and explanation with a maximum of practical steps. For me, however, the book's value went beyond that. The idea of treating a self-critic as another person, turning an adversary into a friend and coach, was a new idea for me. So was recognizing a self critic as potentially a well-intentioned entity that needed understanding and compassion. I think the most important aspect of Lancer's advice for dealing with a self-critic is to evaluate the critic's criticism. What I learned from Lancer is that rhymes "integrate the brain's right and left hemispheres to enhance holistic brain function." I also learned that adding memory can "stimulate emotion and evoke alpha and theta non-ordinary brain waves that increase memory and learning."