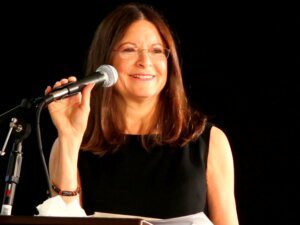 MEDIA PODCASTS, INTERVIEWS AND SEMINARS
Media – Seminars – Webinars – Public Appearances
November 2, 2023 Codependency and narcissism. Listen to a group Q&A hosted by Maureen Spielman on Mystical Sisterhood
August 28, 2023 Are You Sleeping With a Narcissist? Danger Signs and Escape Strategies on types and traits of narcissists, their defenses and attraction to codependents, warning signs when dating, and leaving the relationship. Podcast with Dr. Avila of Love University
July 2, 2023 Relationships with Narcissists and Passive-Aggressive People. Watch or listen to the podcast Interview with Mariel Hemmingway and Melissa  Yamaguchi of Out Comes the Sun.
Mar. 24, 2023 Signs and Cause of Codependency & Accessing Your Dreams. Podcast with Maureen Spielman on Mystical Sisterhood
Feb. 25, 2023 The Danger of the Covert Narcissist. Watch Interview with Director James Bonato, Producer of Running with a Narcissist 
Feb. 1, 2023 Developing Personal Boundaries. Watch Seminar with She Recovers Mental Health Series .
Oct. 13, 2022 Recognizing Abuse and Narcissistic Relationships. Podcast with Michelle Chalfant on The Adult Chair.
Sept. 21, 2022 Codependents and Narcissists. Podcast with Andrea Ashley on The Adult-Child.
Sept. 2, 2022 How to Avoid Dating a Narcissist. Podcast on The LoveFix.
August 14, 2022 The Narcissist's Mind and Behavior and Codependency Recovery. Watch Interview with Joshua Stuart of Power Recovery, Inc.
Aug. 8, 2022 Comparing Codependency of Narcissists and Their Partners. Watch Interview with Tracy Malone.
July 22, 2022 Codependents' Lost Self, People-Pleasing, and Perfectionism. Podcast with Matt Pheifer.
June 30, 2022 Rebalancing Power in Narcissistic Relationships. Podcast with Kendall Combs of High Heels and Heartache.
June 22, 2022 Codependency and Shame Underlie Narcissism and Addiction. Watch Interview with Rob Hanley of Recovery Today Magazine.
June 20, 2022 The Mind, Motivation, and Behavior of Narcissists in Relationships. Watch Interview with Kevin McDonald of Positive Talk Radio.
June 2, 2022 ABC Portland Watch How to Spot and Deal with Gaslighting.
June 1, 2022 Common Symptoms and Boundaries of Codependents and Narcissists. Watch Discussion with Krista Resnick of Becoming Boundaried Podcast.
May 30,2022 The Forces that Drive Narcissism and Codependency. Watch Interview with NarcTV
May 28th & 31 1550 AM August, GA area. Dynamics of Relationships with Narcissists and Addicts and Narcissists. Listen to my talk with Carl Thornton.
May 25th  Dreams, The Doorway to the Soul. Podcast with Michael Parker on TNT Radio Network
May 16, 2022 NBC Tampa Bay Tactics of Abusers and Gaslighting Signs. Watch Bloom TV Interview. Listen to the extended Podcast with Gayle Guyardo on responding to abuse and gaslighting.
May 14, 2022 Reclaiming Your Power in an Abusive or Narcissistic Relationship. Podcast with Chase and Sarah of "I Do Podcast," discussing healthy narcissism, traits of NPD, why we love narcissists, and the problems of denial, codependency, and shame. Learn how to regain your power in a relationship and decide whether to stay or go.
May 13, 2022 Narcissistic Parents & the Dance of Power in Relationships with Narcissists. Podcast with Randi Fine
May 9, 2022 PDT Channel Q Facts and Myths about Abusive Relationships. Listen to talk with Shira at Listen at Let's Go There L.A.: KNX News 97.1 FM, KROQ, 94.7 FM WAVE; Boston: 103.3 WODS-FM; Chicago: B96 WBBM-FM; Hartford: 93.7 WZMX-FM; Miami: Power 96 WPOW-FM; New York: ALT 92.3 WNYL-FM; Portland: 105.1 The Buzz KRSK-FM
May 9, 2022 Fox Good Day D.C. Signs of Gaslighting and What to Do. Watch Interview with Holly, Jeanette, and Marissa
May 5, 2022 The Link Between Shame, Codependency, and Narcissism. Watch the Interview with Maria Daskalakis of Soulfed.
May 4, 2022  Attachment Theory, Attraction to Narcissists, Dream Analysis, Borderline Personality Disorder and Depp vs. Heard Trial Podcast with Michael Parker on TNT Radio Network (Correction: Inheritability of BPD is 37-69%; DBT originated 40 yrs. ago)
May 3, 2022 Fox Good Day Atlanta Gaslighting Behavior and What to Do. Watch Interview with Sharon Lawson
May 2, 2022 Fox 21news Colorado Watch Dealing with Gaslighting.
April 28, 2022 Fox32 Good Day Chicago How to Spot and Deal with Gaslighting. Watch Interview with Anita Blanton
April 28, 2022 100.5 FM Vancouver Dealing with Abusive Addicts and Narcissists. Watch Interview with Talk Recovery Radio
April 26, 2022 Podcast with Recovery Today
April 22, 2022 Spotting a Narcissist and Problems Dating and Loving a Narcissist. Podcast with Lesli Doares
April 18, 2022 Fox Good Day LA TV Changing the Power Dynamics in Narcissistic Relationships. Watch Interview with Michaela Pereira
April 17, 2022 Narcissistic Relationships and Shame. Podcast with Mike Wagner. Also on Youtube.
April 15, 2022 Fox40/Morning TV Love Bombing and Narcissistic Relationships.  Watch
April 14; 2022 Types of Narcissists and People Who Are Attracted to Them, and Can They Really Love? Podcast with Narcissist Apocalypse
April 13, 2022 Fox TV  Spotting and Giving Away Power to a Narcissist. Watch The Kimberly and Esteban Show
March 18, 2022 Reclaiming Your Self and Your Power in Narcissistic Relationships. Watch Interview with Tracy Malone
Feb. 18, 2022 Codependency Challenges, Symptoms, and Steps to Recovery. Watch The Mind Journal Livestream.
Jan. 14, 2022 Spotting, Managing, and Healing Shame. Podcast with The Food Junkies.
Nov. 14, 2021 Signs and Symptoms of Codependency and Narcissism. Watch Interview with Lydia Michalitsianos.
Oct. 23, 2021 Understanding Codependency Recovery. Listen and get a deep understanding of codependency symptoms, how they all interact, and how to recover.
Oct. 23, 2021 My Codependency Recovery. Listen to a talk about the seeds of my codependency, the effect on me of having a narcissistic parent, and my journey of recovery.
Oct. 22, 2021 Codependency vs. Narcissism, Shame vs. Guilt, Self-Acceptance, & Intimacy  Podcast with Narcissist Apocalypse
Sept. 27, 2021 The Dynamics of Relationships with Narcissists. Watch Interview with Different Brains
Sept. 27, 2021 How to Diagnose a Narcissist. Watch Interview with Different Brains
Sept 18 2021 Relationships with Narcissists From Dating to Leaving. Watch Interview with Narcabuse_TV or Youtube.
July 22, 2021 Shame and Addiction in the Family and Codependency. Listen or Watch. Interview on The Buttrfly Effect
April 12, 2021 How Narcissists Deceive You Listen or Watch. Interview on The Lisa Show on BYU Radio & Sirius XM 143
April 8, 2021 Unlearning Codependency and Shame Podcast with Michelle Chalfant
March 31, 2021 Intimacy & Codependency Video Interview at Flame of Marriage Summit
March 29, 2021 Parenting an Addict Video Interview for the Unstoppable Moms Summit
March 26, 2021 How to Recover from Codependency Video Interview with Lilli Bewley
February 5, 2021 Podcast Interview with Sherry Gaba at The Love Fix
February 1, 2021 Video Interview at Relationship Breakup to Breakthrough Summit
January 28, 2021 Radio Interview  with Last Door Recovery on shame during lockdown and co-alcoholics in recovery
September 28, 2020 How Shame and Codependency Interact Video Interview with She Recovers
September 19, 2020 Narcissists and Relationships Podcast Interview with Terrence Deaton
September 12, 2020 Dynamics of Abusive Relationships Podcast Interview with Veronika Archer
August 20, 2020 Codependency: Trauma, Shame, and Recovery Video Interview at Codependency Round Table
August 11, 2020 Power Imbalance in Relationships Interview on The Lisa Show on BYURadio
February 11, 2020 How We Sabotage Love Podcast on One Broken Mom with Amee Quiriconi about self-esteem and relationships
February 14, 2020 Codependency: History, Cause, and Intimacy Issues in Relationships Interview for NPR podcast on the science of love and article on codependency

December 12, 2019 Codependency Symptoms and Shame Podcast with Dr. Russell Thackeray of Resilience Unravelled
November 20, 2019 Codependency, Parenting and the Family Podcast with Anna Seewald of Authentic Parenting
October 14, 2019 Authenticity vs. Shame Interview with Sue Ann Yeung of Be Authentically You
October 5-9, 2019 Narcissistic Trauma Conference with Susan Ball
July 9, 2019 Codependency, Symptoms, Self-Esteem, Attachment, and Dating Podcast with Kim Berg of The Ultimate Love Show
May 30, 2019 Codependency and Recovery Podcast with Jeff Jones of The Family Recovery Solution
May 25, 2019 Codependency vs. Interdependency Interview with Leslie Doares. See "Are You Codependent or Interdependent?"
April 11, 2019 Channel Q "Let's Go There" on Radio.com Toxic Parents Interview with Shira and Ryan
March 29, 2019 NBR FM 9:52am PDT Professionals Round Table Interview with Elvis Marchand
February 24th, 2019 KABC Dr. G: Engaging Minds Panel on alcoholism and codependency depicted in Melissa McCarthy's movie, "Can You Ever Forgive Me?"
February 18, 2019 How Parenting Causes Codependency and Shame Webinar Interview with Cheryl Fidelman
December 17, 2018 How to Set Boundaries in Relationships Podcast with Kendall Ann Byrd of High Heels and Heartache.
Nov. 1, 2018 WTHB Self-Esteem and Narcissism Interview with Carl Thorton
Sept. 11-17, 2018 Overcoming Shame and Guilt Webinar Interview with Ande Anderson
Sept. 1-10, 2018 Emotional Abuse Recovery and Resilience Summit Webinar Interview with Stacy Brookman.
July 30, 2018 How to Beat Perfectionism BBS Radio Network Interview with Filippo Voltaggio on The Life Changes Show
August 24, 2018 Trapped in an Unhappy Relationship? WebtalkRadio Interview with Lesli Doares
July 17, 2018 Codependency and Addiction Podcast with Alex Avila of Love University
July 7, 2018 WTHB Narcissism and Narcissistic Relationships Interview with Carl Thorton
August 8, 2017 Overcoming Perfectionism Interview on Mental Health News Radio with Kristin Walker
June 27, 2018 Overcoming Codependency Webinar with Ande Anderson.
June 4, 2018 Empowering Stepmoms Webinar Series with Nathalie Savell
April 6, 2018 Codependency Podcast Interview with Joseph Foley
July 13, 2017 Perfectionism and Self-Esteem Interview with Jenny McCarthy
July 15, 2016 Put the "I" in Independence. Interview about autonomy and how to achieve it with Kristin Walker.
July 5, 2016 Relationships with Narcissists-How to Detach and Communicate. Interview with Colleen Mullen.
June 15, 2016 Voice of America – Codependency & Self-Esteem Empowerment Interview with Tamara Neal.
May 2, 2016 Codependency Symptoms and Emptiness Interview with Sherry Gaba
February 9, 2016 Dealing with a Narcissist: 8 Steps to Raise Self-Esteem and Set Boundaries with Difficult People Interview with Randi Fine.
April 12, 2016 Overcoming Codependent Guilt and Shame Interview with Dr. Pamela Brewer.
February 5, 2016 Freedom from Guilt and Blame: Finding Self-Forgiveness Interview with Randi Fine.
January 14, 2016 Self-Esteem Interview with Jenny McCarthy
December 28, 2015 10 Steps to Self-Esteem. Interview on Vancouver Recovery Radio CFRO 100.5.
November 17, 2015 NPD and Narcissistic Relationships Interview with Mental Health News and on Youtube.
July 14, 2015 "Overcoming Codependency" Interview with Randi Fine
June 11, 2015 Conquering Shame and Codependency. Interview with Brian Pisor.
Nov. 14, 2014 What is Codependency Interview with Clinton Power of Au Counseling on the cause, symptoms and recovery.
July 30, 2014 Unhappy in Your Relationship?  Blog Interview with Martha Rosenberg of AlterNet on Conquering Shame.
June 10, 2014 Freedom From Shame, MyNDTALK with Dr. Pamela Brewer
July 2, 2014 Conquering Shame and Codependency. Interview with Cyrus Webb
May 6, 2013 Listen to Codependency and Conflict. "Languages of Love" Teleseminar.
October 14, 2013 Girls 2 Women Telesummit,  about how shame and self-esteem starts in childhood.
October 24, 2013, 100.5 FM Codependency and couples in new sobriety on Vancouver Recovery Radio
Dec. 8, 2013 Relationship Revolution Summit. On the origins of shame and its affect on relationships
June 30, 2012 Listen to a seminar on the symptoms, causes, and progression of codependency
October 20, 2012 CityTV Interview with Connie Martinson on Talk Books Pt 1  and Pt 2
June 25, 2012 W4CY (W4CY.com) Interview with Cheryl Resnick
Dec. 10, 2012 Blog interview "Breaking the Cycle of Codependency" with Cathy Taughinbaugh on codependency and parenting, Helping Parents Find Peace.
October 6, 2012 Interview with Denise Krochta on Addicted to Addicts about Codependency and Enabling.
Nov. 6, 2012 CBS Sky Radio "A Moment of Change" with Sherry Gaba
November 2, 2012 Southern California Counseling Center. A seminar for counselors, discussing symptoms and causes of codependency: Click: here
October 2, 2011 Interview with Donna Marie Thompson on Bouncing Back from Divorce.
January 13, 2011 Interview with Rev. Shayna Lester, LMFT, Domestic Violence expert. How to recognize abuse and what you can do.
December 7, 2010 Interview with Tamara Small on Blog Talk Radio "Decode Your Dreams." Read more about dreams.
Listen to more talks on codependency and relationships, here and here.
Public Appearances
Standing Our Ground
September 14–16, 2018  She Recovers, LA Conference
Dealing with a Narcissist
January 31, 2016 LA Performance Center. Watch a YouTube excerpt.
How To Raise Your Self-Esteem
January 31, 2015 Santa Monica Ocean Park Library
Healing from Shame: Our Inner Saboteur
June 28 2014 Palms-Rancho Park Branch Library
Why Relationships Hurt
June 8, 2013 Marina Del Rey Library
June 23, 2012 L.A. Brentwood Library
June 30, 2012 Santa Monica Main Library
Listen to this talk on the symptoms, causes, and progression of Codependency.
Sept. 4, 2012 Westwood Library
Sept. 29, 2012 Palms-Rancho Park Library
Nov. 13, 2012 West Hollywood Library
Dec. 13, 2012 Main Downtown Library
February 9, 2013 Culver City Library
Media Appearances
Fees Available on Request.
Media, Seminars, and Public Appearances on How to Overcome Codependency and Low Self-Esteem and other topics provided by Darlene Lancer, MFT, a Licensed Marriage and Family Therapist in Santa Monica, CA, and author of Codependency for Dummies and 10 Steps to Self-Esteem