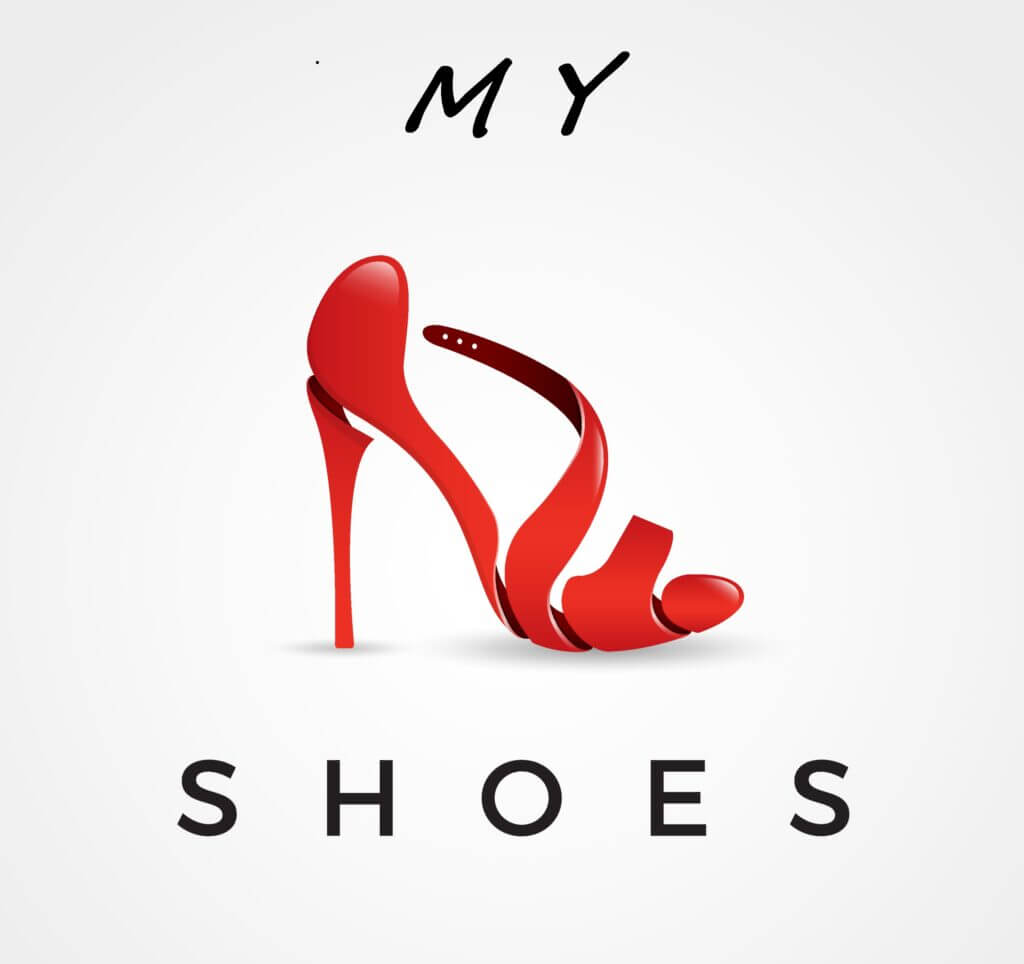 Twenty years ago, I'd been three years on crutches and unable to walk, not knowing if I ever would.
Gazing at my closet floor, I thought . . . too many shoes, all laden with dust.
There they sit, frozen in time from when they last felt the warm moist aliveness of human tissue breathing inside their leather skins — leather that has begun to harden and crack.
I'd long needed a shoe organizer. I bought a metal shoe rack, but it helped little. The tennis shoes have no heels to hold them in place. The red, the black, the white, and suede dress boots, hiking boots, rain boots, and cowboy boots are too large to fit. The hi-heels are always falling off.
My shoes look back at me wondering about their fate. Will they find new owners on a Salvation Army shelf? Will they again adorn the familiar feet that molded their shape from the moment they escaped crinkling tissue and the smell of cardboard? They each think of themselves special and protest an untimely farewell.
The Reebok tennies with winged, purple bolts, nearly white as new, feel cheated, their brief adventures stolen — weekly treks up rugged dirt trails in Topanga State Park and long walks on the Santa Monica Beach bike path.
The tan buckskin cowboy boots remember standing outside a green canvass tent, listening to cattle whining in the chill of dawn, waiting for patches of morning sunlight to warm the dewy grasses of the flat and wide Owens Valley and a chance to sit alongside the fire pit to melt their frosty toes. They miss the smell of alfalfa, the crunch of soft straw, and the support of steel stirrups hugging the sweaty belly of a galloping mare.
The hiking boots come from lowly origins, having been rescued from an army surplus store. They're world travelers storing many exciting tales — of wandering through the muddy the Peruvian Amazon rain forest trekking the Nepalese foothills of the Himalayas, marching on the hot Sahara at Abu Simbol, circling the Jokhang Temple in Lhasa, and hiking up and down the grassy steps of Machu Picchu.
On the bottom of the rack are black hi-heeled pumps of soft kidskin, plain, but feminine and sophisticated, evident by the subtle perforated scallops around the toes. These were reliable, steady stalwarts that could sustain long hours others couldn't. Worn and tired from years of work, to and from offices, meetings, luncheons, they welcome a needed rest.
Laying on the closet floor are natural leather sandals with straps that were once long enough to wrap around the calf, that is before kitten was teething on them. They were summer favorites night and day and spent many winters strolling the beaches of Mexico.
On a top shelf is a white and black shoebox, one among many long forgotten. Asleep inside for over thirty years are yellowed, off-white pumps dyed to match a white lace wedding dress. Black scuff marks along silken fibers etch the memory of a joyous celebration. Their era passed, they've entered a timeless slumber.
Further down the shelf, visible through costly clear Lucite containers, are expensive French hi-heeled sandals, worn on three occasions by Mother. The pearlized turquoise straps smell of new leather. The finest of the group, these aristocrats are unaccustomed to their strange habitat, surrounded by stacks of handbags and frayed discolored boxes. Shielded from time and dust, they're content to await a proper suitor.
Soft black ballet slippers thrown in a corner beneath the shoe rack struggle to remember the meter of a familiar Chopin etude, the sequence of ronde de jambes once second nature, now hard to recall, but they try. They must, like a small lamb bleating in the darkness for a mother it cannot see, whose scent it fears forgetting into oblivion.
The leaders of the bunch are the sassy, red patent leather, sling-back, hi-heeled sandals, held together by delicate spaghetti straps. Yet they know power. Needless of stockings, they seduced and romanced. They've been so long on the rack. It seems an eternity. But they are the most beloved, the most worn, having been repaired numerous times, and they're the most selected for weddings, bar mitzvahs, and award ceremonies. Nevertheless, they're too unsteady for dances and compete with the sturdier red and black twins.
These twin pairs of professionals have only two and one-half inch leather heels with a buckled T-strap across the arch. They boast leather outer soles that have rarely touched anything harder than wood. Like prized thoroughbreds, the twins received dutiful steel brushing after long hours of dancing matted their soft buckskin soles. They miss the quick steps of a lively mambo and spinning endlessly to a hustle beat. They long to glide along a polished ballroom floor to a Viennese waltz. They even miss the crowded nightclubs and rehearsal halls despite their scuffed and sticky dance floors.
Now they can only remember and fear that their aging leather bodies won't move the same. They wait for a chance for just one more dance.
© 2004 Darlene Lancer