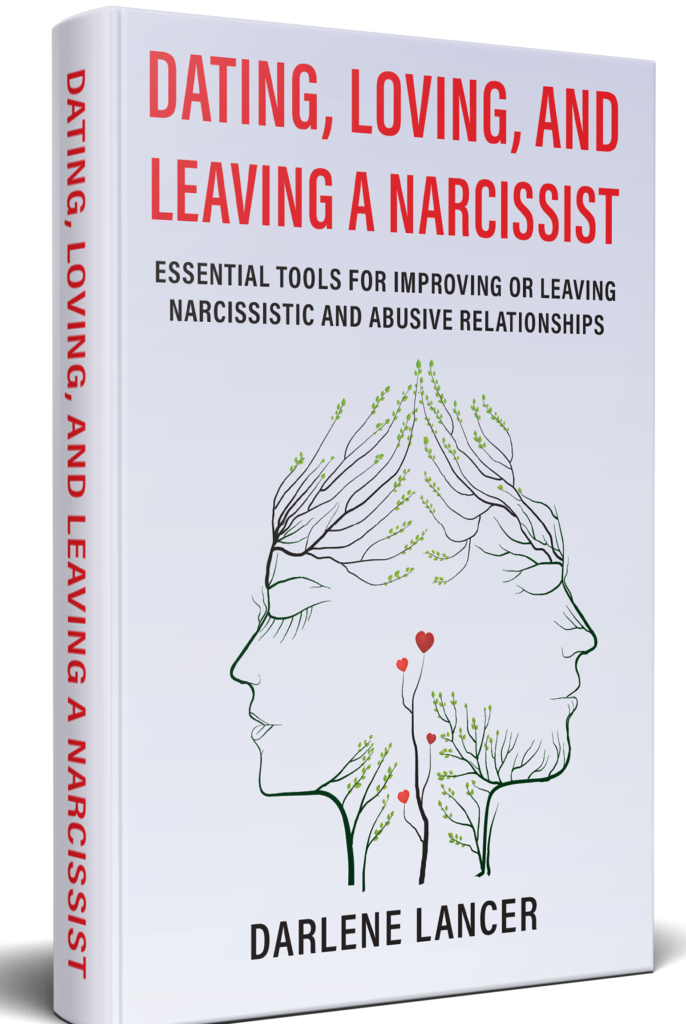 Download a PDF now. Order a paperback from Amazon or Barnes & Noble. You can also get a digital eBook there, at Google Play, or on Smashwords for Apple, Kobo, and other devices. Get the audiobook version on GooglePlay. Ask your library or local store to order it.
If you're in an abusive relationship and either don't want to leave or are having difficulty doing so, Dating, Loving, and Leaving a Narcissist is for you.
This book is insightful, researched, and empathetic. The core problem in relationships with narcissists is that they prioritize power and sacrifice the relationship to get it, while their partners prioritize the relationship and sacrifice themselves to keep it. Dating, Loving, and Leaving a Narcissist offers hope and help for loved ones to restore their self-esteem and rebalance power in an abusive or narcissistic relationship. It includes Essential Tools for Improving and Leaving and provides an in-depth analysis of the relationship, how to make changes, and how to assess its prognosis. It will help you leave if that's what you choose.
This workbook is packed with healing exercises and checklists to enlighten and motivate you. It suggests lists of actions, including a strategic, step-by-step plan with scripts to confront abuse and get your needs met.
Dating, Loving, and Leaving a Narcissist will help you take back your power and independence. You will reclaim yourself and improve your relationship, whether the narcissist is your partner, parent, child, sibling, or co-worker, or doesn't have a narcissistic personality disorder. In sum, you will have a better relationship with yourself and your loved one and be able to decide whether and how to leave the relationship.
You will be able to:
Discover the diagnosis, type, and deep motivations of a narcissist
Recognize the red flags when dating a narcissist and know what to do
Identify narcissistic behavior and know how to handle it
Understand your role and attraction to a narcissist
Regain your autonomy and self-esteem
Rebalance the power in the relationship
Learn how to confront abuse effectively
Assess your relationship and whether to stay or leave
Prepare to leave
What Other Experts Are Saying
"Darlene Lancer understands the DNA of people with narcissistic personality disorder, including their relationships. Her clinical credentials and personal experience make this a book that is not to be missed if you have a partner with NPD, whether you're staying in the relationship or leaving."
~ Randi Kreger, Author of Stop Walking on Eggshells
"Darlene Lancer's book will help you regain your sense of self and restore your right to believe in yourself again. It will help you make sense of the nonsensical experiences you have experienced with someone you believe may have either been a narcissist or possessed high narcissistic traits. Thank you, Darlene, for bringing your understanding, wisdom, and compassion to the field of narcissistic abuse
~ Lisa A. Romano Life Coach and Bestselling Author of The Codependency Manifesto
"Darlene Lancer's expertise on narcissism and its impact on relationships is unequalled. She understands the differences in our brains, and has insight that all could benefit from."
~ Hackie Reitman, M.D., DifferentBrains.org.
"Darlene Lancer has created a "must have" manual for those who suffer from the nasty habit of getting into bed with a narcissist. This book will enlighten you about the subtle and seductive methods that have been used to reel you in, and will provide you with the concrete steps to make you narcissist-proof moving forward, liberating you to finally create the mutually loving relationship you long for."
~ Katherine Woodward Thomas, NYT Bestselling Author of Calling in "The One"
"Lancer is not only a scholar of codependency and narcissism, she's been a victim of narcissism and healed from it. I'm grateful for her expertise and personal wisdom and highly recommend her books to my clients."
~ Jean 'Shayna' Lester, LMFT, Prison Chaplain, Spiritual Director, Teacher of Ethics & Sacred Therapy
"I am extremely impressed with this book and highly recommend it to anyone who has a narcissist in their life. Lancer takes the courageous and enlightened perspective that even a relationship with a narcissist can be improved if you can gain sufficient understanding of them and yourself. Instead of demonizing narcissists, Lancer focuses on changing the relationship dynamics, offering hope and healing for anyone dealing with a narcissist."
~ Beverly Engel, Author of Escaping Emotional Abuse: Healing from the Shame You Don't Deserve
"Lancer has written an insightful and comprehensive book that is transformative for loved ones of narcissists. Like her books on shame and codependency, she remarkably breaks down deep psychological concepts into empathetic and practical strategies for anyone wanting to improve their relationship and/or decide whether to leave."
~ Sherry Gaba, LCSW, Author of Love Smacked and host of The Fix Podcast
"Darlene's book speaks to readers on so many levels. She takes people by the hand and helps them explore their deepest, most empowering truths. Excellent! Despite nearly 25 years researching and writing about narcissism as well as my clinical work, I learned much from reading her book – not just factually, but also valuable insights and perspectives about narcissistic relationships, self-esteem, and healthy boundaries."
~Dan Neuharth, LMFT, Author of If You Had Controlling Parents: How to Make Peace with Your Past 

 The key to moving forward in my life By Customer
This book along with Darlene Lancer's other books on codependency, and her website, were the key to understanding how I was stuck in the relationship with my husband who was abusive and a narcissist. Reading this book felt like reading my life. The understanding I gained helped me come out of denial and start taking responsibility and accountability for my life. The exercises and practical steps outlined in this book helped me to negotiate the ending of my relationship and the path to health and recovery for myself. Thank you Darlene!
Tools Presented Actually Work!! By Regan Nally July 12, 2023
Her deep understanding of their wiring and suggestions to avoid heightened reactivity actually worked. I have read many a book on the topic and this one is at the top of my list. It restored functionality to a dysfunctional dynamic. I can feel better about myself in the relationship by not reacting. The tools presented actually work!!
Finally By Steph Phelps July 8, 2023
Finally a positive and knowledgeable approach (to) understanding and healing.

 Already Gone By 10.jnj February 23, 2023
This book is a must-read for anyone living with a narcissistic mate. I knew my codependent self was an issue in my marriage but did not know how to set boundaries with him. I am happy, at peace, and free now. This book also helps me be able to respond to him. Thank you.

Opened my eyes By Rhi
UK February 27, 2023
This book…grabbed me by both arms and dragged me out of denial. I was finally able to see not just my relationship, but myself for what is real…it has changed my life in so many ways. It helped me let go of the life I wished that I had and helped me gain clarity and a truth that I had been avoiding for many years. I used this book alongside other books from the same author as well as with support from a therapist.

 A Must-Have Book – HIGHLY recommend! By Tracy A. Malone June 14, 2022
When it comes to helping people understand narcissistic behaviors, Lancer has cracked the code!  Have you ever wondered why you became a target? Darlene not only explains the why but also how to heal. As a narcissistic abuse coach, I have read many books on this very topic but the way Lancer takes the layperson by the hand through the dating process, the challenges of loving a narcissist, how to communicate with a narcissist if you are unable to leave, to successfully leaving and then healing from the abuse is nothing short of expert.
Dating, Loving, and Leaving a Narcissist includes so many thought-provoking and helpful lists that prompt the reader to reflect on the relationship itself as it relates to their own historical relationship patterns. I felt like I was in a therapy session as Darlene sat across the room asking pointed questions. Her techniques are revolutionary – I have yet to ever see anything like this in print. It is nothing short of genius! This is a go-to book that I will suggest to all my clients. She didn't miss a thing. I LOVE IT!!

BEST Tool in my personal library!
By Katherine Ornelas Sept. 4, 2022
I couldn't put the book down!  Reading Darlene's book Dating, Loving, and Leaving a Narcissist has given me insightful Tools both professionally and in my own personal life. GRATEFUL FOR YOU DARLENE!
A huge asset By Denise Devoe February 28, 2023
The hardest part about the decision to leave is that it has to come from you, without input from the narcissist.  It is a loud war when you engage with them and it becomes a silent war when you stop engaging and begin to build your own confidence to eventually know your own reality. Only the very strong make it out. This book is a huge asset to building your strength to reclaim your life.

This book can save you years and soothe your heartache By Davis Newhouser May 26, 2023
The author offers a thoughtful, well-researched, and sensitive exploration of why romantic relationships with narcissists are so difficult and painful. The book excels at giving exercises to explore and understand what draws us to narcissists, what keeps us with them, and why it can be so hard to leave even when the relationship becomes toxic.
The author is both supportive and authoritative in her approach. The book speaks on a deep level and helps readers identify an unhealthy relationship with a narcissist much sooner than many of us might otherwise be able to do on our own.
If we identify that we are in an unhealthy relationship, the book is empowering in that it offers multiple paths. For those who may not want to leave a relationship with a narcissist, the author offers a thorough approach for how to try to improve the relationship so that it is less unhealthy. The book also gives ways to clearly identify whether a narcissistic partner can or will change. For those who decide to leave an unhealthy relationship with a narcissist, the book offers a comprehensive plan for doing so in the most safe and healthy ways possible.

 The Bible of Uncovering Narcissism By Amr Alaa May 18, 2022
I was able to comprehend why people become narcissists, why they get attracted to codependent partners, the dynamics, the internal game, the external lingo, how to hack narcissism, and how to move on with the least damage possible. I got so excited that I decided to take notes and deliver a workshop to my friends and family.

This is a very special book written by a very special person. By Pamela Robinson May 1, 2023
Through this book I got so much I don't know where to start. I got countless answers to questions I was sure I would never get. I learned that there were words for all the things that had been happening to me. I learned why the person I loved so much could not stop doing these things to me. I received an amount of closure that I didn't believe I would ever get…I also learned a lot about myself…that I'm excited to work on. I learned how to not ever be abused or hurt like this again. If you love someone or have been abused by someone who is a narcissist you need to read this book. Or if someone you care about is involved with a narcissist you need to read this book. However, I believe anyone will benefit greatly by reading this special book written by a special person.

  Very insightful and extremely helpful! By Barbara Keeler May 3, 2022
Very insightful and extremely helpful! It gave me valuable insights into my relationship with some of my acquaintances.

Empowering and Insightful By L.T. March 23, 2023
A must-read for anyone who has been in a relationship with a narcissist. The book is well-written, informative, and insightful, providing essential tools for improving or leaving a narcissistic and abusive relationship. Lancer draws on her years of experience as a therapist to explain the complex dynamics of narcissistic relationships and provides practical advice on how to identify and cope with a narcissistic partner. She covers topics such as the different types of narcissism, the red flags to watch out for, the impact of narcissistic abuse on your mental health, and the steps you can take to heal and move on.
What I particularly appreciated about this book is that it doesn't just focus on leaving the relationship, but also provides guidance for those who choose to stay and try to improve the relationship. Lancer emphasizes the importance of setting boundaries, practicing self-care, and developing a support network, regardless of whether you decide to stay or leave. [It's] an incredibly valuable resource for anyone who has been in a relationship with a narcissist. It's empowering, validating, and provides concrete tools for healing and moving forward. I highly recommend it to anyone looking to improve their relationship or leave a toxic one behind.

 Extremely helpful book for personal growth By Traveler April 28, 2022
Lancer has done a deep dive into identifying the different types of narcissists, what attracts you to these types of individuals, understanding your own needs, and growing and disentangling yourself from this type of codependency. I wish this book was around 20 years ago when I needed Lancer's insights to understand my own attraction to narcissistic men as a way to work out childhood issues with an overbearing parent. Lancer's book lays out a map for understanding them as well as making qualitative, real lasting changes. This book isn't just for those in an intimate love relationship, but anyone who has a parent, sibling or partner that displays narcissistic tendencies which entangle and confuse you. I highly recommend!

Very insightful. With solutions By Gail O'Malley May 28, 2022
After your understanding of this disorder discover your solution for a way out. The book offers remedies.

 Important information By M. Gormley May 1, 2022
One can get lost in the black cloud a narcissist places over your head and can take over your life. Trying to straighten it out or get away from it can feel like getting an ocean liner to make a sharp U turn. You can't. It's a tough process and this book provides the chance to correct the situation and sets up a plan or guide that leads to removal of the cloud and some sunshine….finally. It might very well save lives.

A Must Read By Lisa Frederiksen May 6, 2022
Darlene Lancer's latest book is a MUST read. She explains narcissism, including causes, types and identifying behaviors. She helps one understand what being in a relationship (as a child, spouse, friend or significant other) with a narcissist does to a person. As importantly, she provides a roadmap of practicable suggestions to help one re-establish their physical and emotional health and quality of life, whether they choose to stay in the relationship or move on. – Lisa Frederiksen, author of the 10th Anniversary Edition If You Loved Me, You'd Stop! and founder of Breaking the Cycles.

Highly Recommended By Sue Finnerty May 4, 2022
A great book! Have been a follower of Darlene Lancer for many years and this book does not disappoint. I have read many books on this subject and this would rate as one of the best. So easy to read and digest with lots of tips along the way. Also references to her previous books which I found helpful. A great addition to my toolbox.

Insightful, revelatory, and therapeutic By Bob June 15, 2022
This is a fascinating book that can help those who are or have been involved with a narcissist. It can help you to understand how you fell for the charms of a romantic narcissist; discusses how to deal with narcissists; provides guidance about how to leave a narcissist; and offers supportive suggestions about recovery. Highly recommended.

Self Love is the key to leave a narcissist By Monica C. Sept. 8, 2022
The mental therapy suggested in this book is helpful to regain your autonomy and self-esteem and to pay attention to red flags.