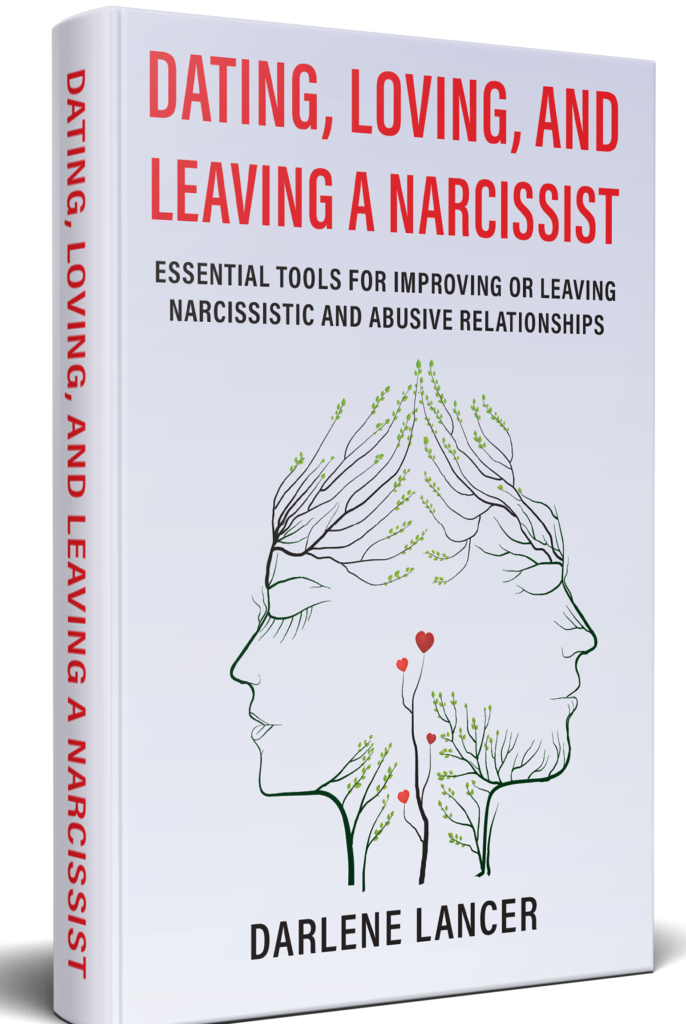 Order a paperback or eBook from Amazon, Google Play, a PDF here, or on Smashwords for Apple, Kobo, and other devices. Soon at other online and local stores. 
The core problem in relationships with narcissists is that they prioritize power and sacrifice the relationship to get it, while their partners prioritize the relationship and sacrifice themselves to keep it.
Dating, Loving, and Leaving a Narcissist is unique among voices that exhort leaving a narcissist. It is insightful, researched, and empathetic and offers hope and help for loved ones to restore their self-esteem and rebalance a narcissistic relationship. It includes Essential Tools for Improving and Leaving and provides an in-depth analysis of the relationship, how to make changes, and how to assess its prognosis.
This workbook is packed with healing exercises and checklists to enlighten and motivate you. It suggests lists of actions, including a strategic, step-by-step plan with scripts to confront abuse and get your needs met.
Dating, Loving, and Leaving a Narcissist will help you take back your power and independence. You will reclaim yourself and improve your relationship, whether the narcissist is your partner, parent, child, sibling, or co-worker, or doesn't have a narcissistic personality disorder. In sum, you will have a better relationship with yourself and your loved one and be able to decide whether and how to leave the relationship.
You will be able to:
Discover the diagnosis, type, and deep motivations of a narcissist
Recognize the red flags when dating a narcissist and know what to do
Identify narcissistic behavior and know how to handle it
Understand your role and attraction to a narcissist
Regain your autonomy and self-esteem
Rebalance the power in the relationship
Learn how to confront abuse effectively
Assess your relationship and whether to stay or leave
Prepare to leave
What Other Experts Are Saying
"Darlene Lancer understands the DNA of people with narcissistic personality disorder, including their relationships. Her clinical credentials and personal experience make this a book that is not to be missed if you have a partner with NPD, whether you're staying in the relationship or leaving."
~ Randi Kreger, Author of Stop Walking on Eggshells
"Darlene Lancer's book will help you regain your sense of self and restore your right to believe in yourself again. It will help you make sense of the nonsensical experiences you have experienced with someone you believe may have either been a narcissist or possessed high narcissistic traits. Thank you, Darlene, for bringing your understanding, wisdom, and compassion to the field of narcissistic abuse
~ Lisa A. Romano Life Coach and Bestselling Author of The Codependency Manifesto
"Darlene Lancer's expertise on narcissism and its impact on relationships is unequalled. She understands the differences in our brains, and has insight that all could benefit from."
~ Hackie Reitman, M.D., DifferentBrains.org.
"Darlene Lancer has created a "must have" manual for those who suffer from the nasty habit of getting into bed with a narcissist. This book will enlighten you about the subtle and seductive methods that have been used to reel you in, and will provide you with the concrete steps to make you narcissist-proof moving forward, liberating you to finally create the mutually loving relationship you long for."
~ Katherine Woodward Thomas, NYT Bestselling Author of Calling in "The One"
"Lancer is not only a scholar of codependency and narcissism, she's been a victim of narcissism and healed from it. I'm grateful for her expertise and personal wisdom and highly recommend her books to my clients."
~ Jean 'Shayna' Lester, LMFT, Prison Chaplain, Spiritual Director, Teacher of Ethics & Sacred Therapy
"I am extremely impressed with this book and highly recommend it to anyone who has a narcissist in their life. Lancer takes the courageous and enlightened perspective that even a relationship with a narcissist can be improved if you can gain sufficient understanding of them and yourself. Instead of demonizing narcissists, Lancer focuses on changing the relationship dynamics, offering hope and healing for anyone dealing with a narcissist."
~ Beverly Engel, Author of Escaping Emotional Abuse: Healing from the Shame You Don't Deserve
"Lancer has written an insightful and comprehensive book that is transformative for loved ones of narcissists. Like her books on shame and codependency, she remarkably breaks down deep psychological concepts into empathetic and practical strategies for anyone wanting to improve their relationship and/or decide whether to leave."
~ Sherry Gaba, LCSW, Author of Love Smacked and host of The Fix Podcast

  Very insightful and extremely helpful! By Barbara Keeler May 3, 2022
Very insightful and extremely helpful! It gave me valuable insights into my relationship with some of my acquaintances.

 Extremely helpful book for personal growth By Traveler April 28, 2022
Lancer has done a deep dive into identifying the different types of narcissists, what attracts you to these types of individuals, understanding your own needs, and growing and disentangling yourself from this type of codependency. I wish this book was around 20 years ago when I needed Lancer's insights to understand my own attraction to narcissistic men as a way to work out childhood issues with an overbearing parent. Lancer's book lays out a map for understanding them as well as making qualitative, real lasting changes.
This book isn't just for those in an intimate love relationship, but anyone who has a parent, sibling or partner that displays narcissistic tendencies which entangle and confuse you. I highly recommend!

 Important information By M. Gormley May 1, 2022
One can get lost in the black cloud a narcissist places over your head and can take over your life. Trying to straighten it out or get away from it can feel like getting an ocean liner to make a sharp U turn. You can't. It's a tough process and this book provides the chance to correct the situation and sets up a plan or guide that leads to removal of the cloud and some sunshine….finally. It might very well save lives.

A Must Read By Lisa Frederiksen May 6, 2022
Darlene Lancer's latest book is a MUST read. She explains narcissism, including causes, types and identifying behaviors. She helps one understand what being in a relationship (as a child, spouse, friend or significant other) with a narcissist does to a person. As importantly, she provides a roadmap of practicable suggestions to help one re-establish their physical and emotional health and quality of life, whether they choose to stay in the relationship or move on. – Lisa Frederiksen, author of the 10th Anniversary Edition If You Loved Me, You'd Stop! and founder of Breaking the Cycles.

Highly Recommended By Sue Finnerty May 4, 2022
A great book! Have been a follower of Darlene Lancer for many years and this book does not disappoint. I have read many books on this subject and this would rate as one of the best. So easy to read and digest with lots of tips along the way. Also references to her previous books which I found helpful. A great addition to my toolbox.