Desert Soul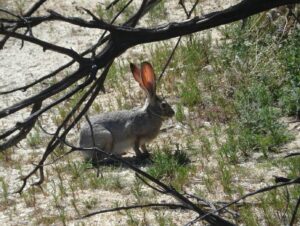 Late November I've been walking in the desert of my soul
Along the dry, uncertain bedrock of a dead stream.
A stream that once sparkled and moved swiftly, with assurance,
that clamored over rocks and broken trees,
Racing to some mindless destination.
Until Spring, when the floods came to kill a child at play
and rip away the chiseled outline of the riverbed.
I step cautiously not to falter among the silent stones left uncovered,
Wandering lost in the vast, unchartered,
long-forgotten emptiness left behind,
To find a crooked path that takes me where I do not know.
Little strength to move on, I stop frequently to rest.
A white-tailed rabbit running in the brush
rouses my delight and wonder.
He stops and listens for direction, then vanishes in the dust.
Leaving me to meander the riverbed of my life.
©Darlene Lancer 1993
Canyons of My Mind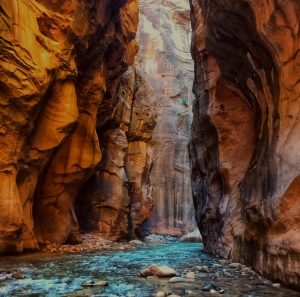 The canyons of my mind that guard the waterways of life,
Forever watching river rafts and passersby floating in their gaiety,
I walk along the banks staring out as life goes by,
endlessly watching from the distant shore.
Unable to hear the silent laughter,
Unable to see but a few feet ahead,
Unable to touch their smiling faces,
Unnoticed, I make my way through
canyons that surround me.
There was a time when I had dreams,
When I had plans and hopes and schemes,
They have no meaning to me now.
Just endless waiting in vast empty canyons,
I can't see out of or through.
© Darlene Lancer 1993
Waiting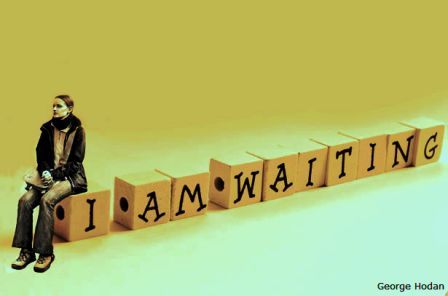 Waiting. Waiting for life to begin.
Waiting for love to come in.
Frozen in time.
Tic, Tic, Tic.
Life is vast. Life is bold. Life is wild.
Tic, Tic.
Immovable walls surround me.
A gale slams against my door.
Obscurely, healing crawls with dubiety,
While entropy grinds on.
Tic.
Destruction silently lurks.
A virus, the wind, a word, an accident
Break me while I sit waiting.
Death does not wait.
I cannot wait.
© Darlene Lancer 2020
The Engagement Ring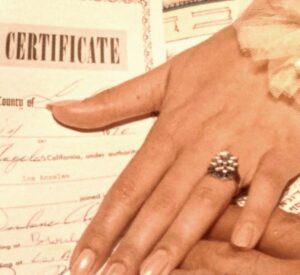 A solitaire danced above
A swirl of twirling light,
Radiating timeless love,
Promised by my shining knight.
Diamonds blazed in each direction.
For me, she was, like him, perfection.
I wore my ring around the clock.
Washed ten thousand times.
Daily it was knocked and jarred.
Platinum prongs were loose and marred.
Baby diamonds disappeared.
Each one I grieved in despair,
Though stronger it became,
Repair upon repair.
Bit by bit it dimmed and changed.
New diamonds mixed the old.
Through the years its value waned–
Prongs soldered with white gold.
Too delicate for life,
It scratched me exercising,
I often hid my ring away.
Unfettered, bygone compromising,
At last, I took it off to stay.
© Darlene Lancer 2007
     Tomorrow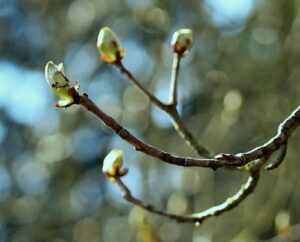 Green buds coming up
too slow, I thought,
Will they grow?
I don't know, perhaps they'll die.
The stems are barren, just a leaf or two;
Some are sickly with white fly.
Another vine looks even worse,
No leaves at all, just tips of green.
This one has no chance, I judged,
while gazing at the light green buds.
A soft voice whispered: "Patience, Wait and See."
No, I can't believe.
I need proof right now these plants will grow,
I'm too afraid, I cannot wait
For what tomorrow brings.
Black is all I see.
I cannot trust, nor can I hope,
For then who would I be?
©Darlene Lancer 2003
Initiation On Point At Karabel's Dancewear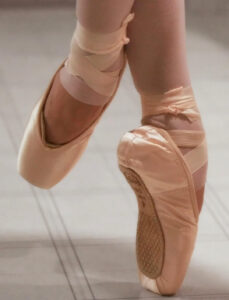 I cover my toes with white lamb's wool,
And slip on pink satin toe shoes.
At last my own!
I wrap round my ankles
Pink satin ribbon,
Crisscross, tie, and tuck in place.
Years of échappes and pirouettes,
Dancing Swan Lake's Love Duet.
I watch pros rub battered, bleeding feet
and don their broken, tattered shoes
in dressing rooms moist with dancers' sweat.
I long for arches leaning over toes,
But on point, my feet soon ache,
Too flat and weak
To break the inner soles
And wear away those satin toes,
That mark the ballerina I yearn to be.
© Darlene Lancer 2003
War and Peace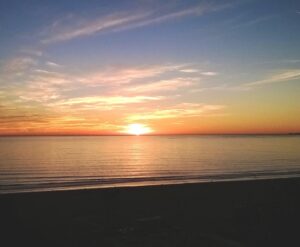 I collapse upon a bench beneath the palms
To watch a twilight surf.
The wide horizon clears my weary eyes,
And wet salt air subdues my city breath.
Purple, pink, and orange skies ablaze in sinking fire
Revive my treadmill mind.
White caps rise, then disappear to die
While endless tides trek through time.
My frozen chest melts and sighs,
and restive heart ebbs and flows in rhyme.
Seagulls climb and dive to party on the sands.
Beyond the aims of men my view expands.
Then from afar, Un bel di serenades
Beloved earth as it flies through space
While bombs descend on foreign lands.
© Darlene Lancer 2004