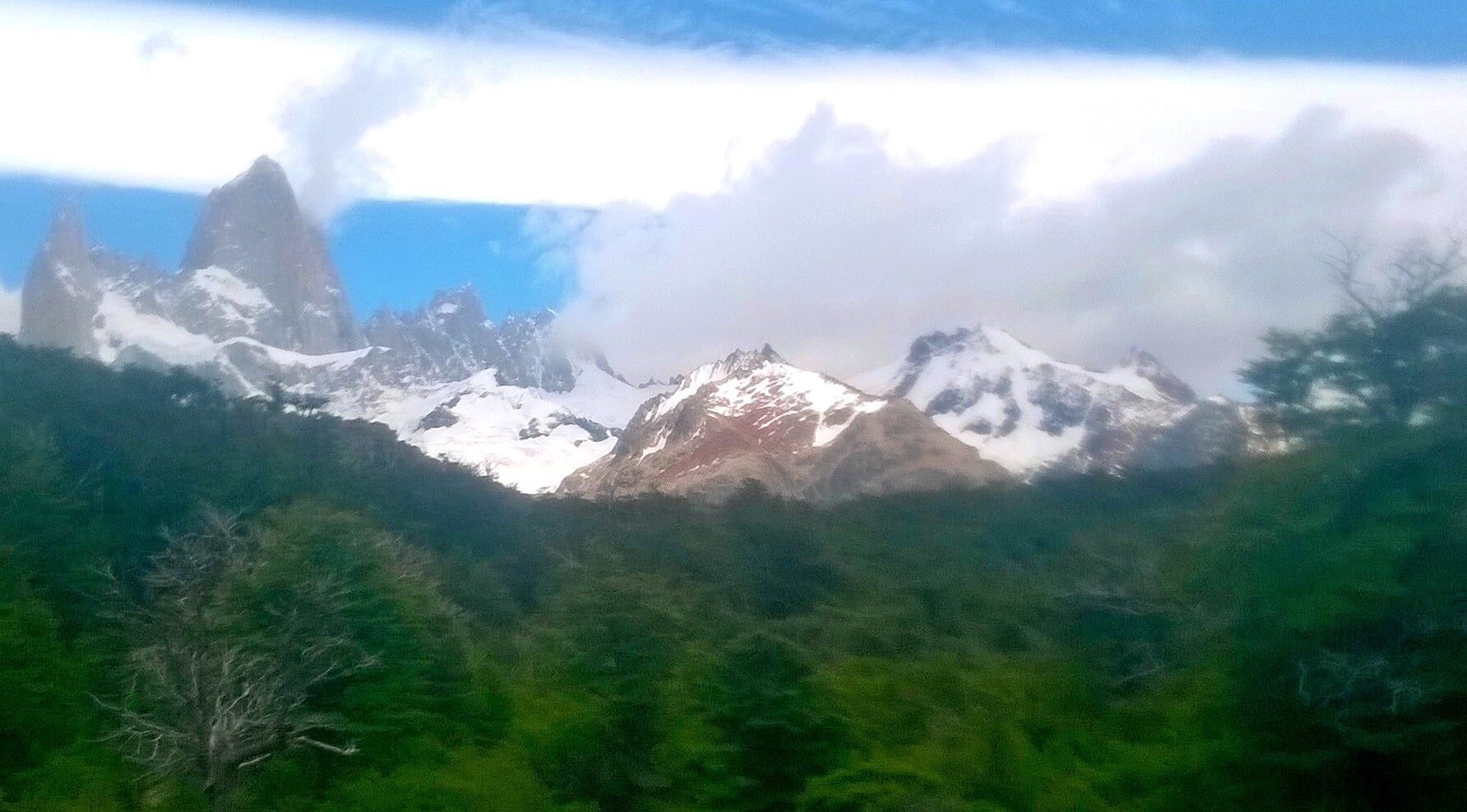 The Mountain that Moved Me
I had long dreamed of dancing tango in Buenos Aires. And I did. But that wasn't the highlight of my trip to Argentina, nor were the glorious Iquazu Falls, nearly two-miles wide, falling 269 feet. Nor were the majestic glaciers along the Straits of Magellan, nor riding horseback at a genuine Estancia (although I had the finest lamb chops ever). The most memorable experience of my trip was unexpected.
To put my adventure in context, I was six months out of a wonderful relationship I'd thought would last a lifetime. On our first date I'd told him about my desire to visit Argentina. He said he'd wanted to go, too, and that we should go together. That would never happen. He was now in love with someone else, but I was determined not to allow the breakup to stop me. So I planned my trip.
I'd also heard Patagonia was amazing and researched points of interest. Musts included the immense and spectacular Perito Moreno Glacier at El Calafate and hiking Mt. Fitz Roy in El Chalten. At most, I was used to walking three miles in my neighborhood. So, given the constraints of my itinerary and limited ability as an out-of-condition, senior novice, I signed up for the shortest, guided hike to Fitz Roy. It was considered a "moderate" five miles. The tour office emailed me that it wouldn't be too hard. Tourists wrote online that it was an "easy," beginners hike.
From El Calafate I traveled by minivan to El Chalten, the trekking capital of the Argentine Andes. El Chalten is a charming, but tiny outpost compared to Pokhara, Nepal, gateway to Annapurna.
It was the day before Christmas. I stared out the window at mostly dry, barren plains, bored, daydreaming about my ex, picturing him with someone else Christmas Eve. I'd hoped that we would be here together; yet, here I was, alone, on the other side of the hemisphere. My melancholy was occasionally interrupted by roadside photo stops to excitedly watch adorable, llama-like Guanacus.
I left my small hotel early the next morning to meet the tour. To my shock, I was limping and could barely walk on my right leg. Worried but hopeful, I slowly limped to their office. I was determined to go the following morning, and they agreed. I canceled a second hike I had planned for the next day and returned to my hotel to focus on self-healing. I spent the entire day
meditating and dozing, doing Reike and gentle Feldenkrais exercises. In between, I cried.
Although the next morning my knee hurt, I was relieved that I could walk. After a quick breakfast, I started out again for the tour office. When I arrived I learned that the group hadn't waited and left early when they had enough hikers. "How could that happen?" I protested. I'd signed up. Apparently, there had been a miscommunication about my reservation. After useless arguing, they assured me that the trail was well indicated and I could go it alone. Only the first few hundred feet would be difficult.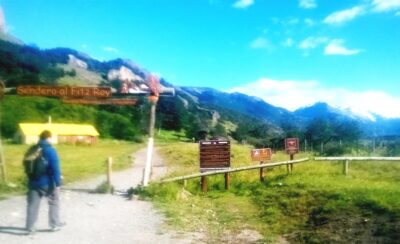 I left for the trailhead to Mt. Fitz Roy at the end of the town. Before long, the trail angled up nearly 60-degrees. In places, I held branches to climb over boulders and locate foot holes. After about a quarter-mile, the path became smoother, but continued steadily upward. Around every turn, I wondered, "When will I reach the easy part?"
My legs were hurting, and I was short of breath. A sign up ahead sparked hope. But on reaching it, I was disappointed to discover that I'd only gone a mile in perhaps an hour. I hiked on, stopping every six feet to rest, which seemed to help. I had to step aside for men, women, and prancing children, and hikers from all over―Italians, Israelis, Canadians, Germans―passed me. To my further humiliation came the elderly with walking sticks who nimbly passed me by. I wished I had some.
Pain and fatigue slowed me, but I had come this far and wasn't going to leave El Chalten―a once in a lifetime opportunity―without seeing the famous Mt. Fitz Roy, sacred to the Mapuche people.
The trail was along the mountain rim high above a valley below. A turnout provided a needed respite and calming view of the De Las Vueltas River, winding its way around the mountain. I didn't think I could take this much more. At my pace, the trail seemed endless. About halfway, it turned inward and meandered through a forest. I anticipated a break from the grueling ordeal. But, although there were reprieves, every downward patch was compensated by longer uphill stretches.
I had no sense of time, but after what seemed another hour, to my right, an opening among the pines revealed a stunning view of spindly, snow-capped peaks of Mt. Fitz Roy poked through clouds―the first glimpse of my destination.
My heart leaped with joy. Until that moment, all I could see was the trail,
and all I could feel was pain and discouragement. Tears of elation whetted my face.
I began to sing, choking on my words: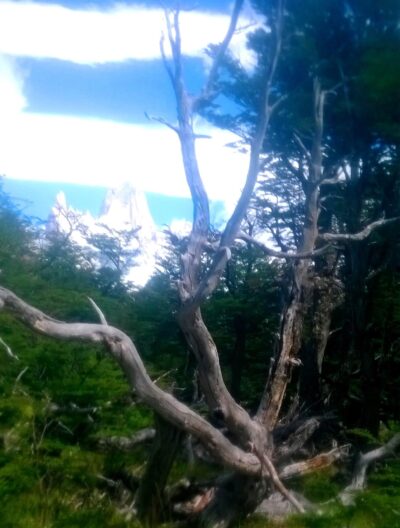 "Climb every mountain,
Search high and low,
Follow every byway,
Every path you know."
"Climb every mountain
Ford every stream
Follow every rainbow
'Till you find your dream.
"A dream that will need
All the love you can give
Every day of your life
For as long as you live."
With renewed incentive, I climbed on, singing to inspire myself,
knowing my destination was in sight and within reach. Eventually, I arrived at the water's edge of Lago Capri. I could finally rest and take in the beauty, gratified that I'd made it. And it was breathtakingly gorgeous, silent, and peaceful. I devoured a sandwich and headed down the mountain, which I figured would be easy. Was I wrong! To my dismay, even though less tiring, it was actually more painful on my knees than going up. Nonetheless, my chest was filled with pride. I was no longer sad, missed no one, and had not an ounce of self-pity.
Gratefully, the next day I wasn't in pain and left the mountains for the Tierra del Fuego archipelago and the southernmost port of South America, Ushuaia, the "end of the world," where I would board a cruise ship to sail around Cape Horn.
Seeing Fitz Roy wasn't Kilimanjaro or Everest, but that climb was my mountain, and ascending it was my Christmas gift. Remembering that and my mettle inspires and moves me to this day. We can do more than we think, but our heart must be committed to reach our goals. Doing so, despite the odds, lifted my spirit as well as my self-esteem.
© 2019 Darlene Lancer