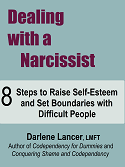 I urge you to instead consider getting the updated and expanded book, Dating, Loving, and Leaving a Narcissist: Essential Tools for Improving or Leaving Narcissistic and Abusive Relationships. It also is available in paperback.
This ebook explains the narcissist's mind and motives and the personality of their partners. Dealing with a Narcissist reveals the unconscious forces driving their mutual attraction and relationship dynamics and sheds light on the damaging impact narcissists have on their partners and children. This is also workbook with strategies that can improve your self-esteem and help you maintain your self-respect and set boundaries in relationships with addicts, narcissists, or emotionally abusive people.
If you were at first charmed by a narcissist, you soon had to contend with self-centeredness, defensiveness, and escalating criticisms and demands. Trying to satisfy them can feel impossible, and neither stops abuse, nor produces genuine caring and reciprocity. You end up frustrated and hurt that your feelings and needs are dismissed or ignored. Steadily, your self-esteem, confidence, trust, and independence decline in the relationship, as you give up more of yourself.
Whether you want to improve your relationship or are ambivalent about staying or leaving, Dealing with a Narcissist – 8 Steps to Raise Self-Esteem and Set Boundaries provides clarity and tools to handle interactions with difficult people. You'll strengthen your self-esteem and gain the ability to set boundaries and communicate effectively. Eight steps are recommended with specific exercises and techniques, which are applicable to any relationship with a difficult person—whether passive-aggressive, controlling, abusive, manipulative, or with a borderline or narcissistic personality disorder.
Read more on narcissistic relationships. Listen to interviews about the book here and here.

If your suffering this might save your sanity November 14, 2018, By J. Sutherland
I have read a dozen books on this subject to heal pain and survive. This is by far the very best book and most helpful to promote change and recovery. After books therapy, counseling, suffering, pain, despair and near insanity, this material is the complete road to healing. . . It's not a solution to your suffering it is a map to happiness.

Finally January 21, 2021 By Monica B.
Finally, someone tells us helpful info for when you want to stay in the relationship. I tried these strategies and they saved me and my relationship. We are both so much happier!

Very insightful and life-changing Aug. 30, 2022, By L.T.

Well written, November 27, 2021 By Cathrina S.
I highly enjoyed reading this book as it taught me a lot about my husband (narcissist) and myself and why I have been a 'victim' for so long. I am excited to apply all the strategies and tips suggested to develop and better me in my situation. This book honestly has changed my life and view of myself. I would definitely recommend this read for people who have been dealing with a narcissist and feel like you're loosing a daily battle. Need help? Many of the answers are within and this is the key to unlock the HOW?

Informative and helpful June 17, 2020
I gave this book five stars because the steps are easy to understand and apply almost immediately. It is very empowering to do the work provided in this guide to raising self-esteem.

Valuable, insightful read November 15, 2020 By Hanakat
Wonderfully, thoughtfully written with a lot of insight. Clear, practical and to the point. This book is a wonderful grounding point and guide to have and refer back to. It enables you to see the forest for the trees and with that comes clarity, which is often so hard to find.

A Wonderful Source of Information and Wisdom August 11, 2016 By Ponytail Pam
Excellent, clear explanation of the varying degrees of the narcissist and the ways to relate with the individual to protect yourself and be able to thrive. Darlene has a way of imparting information that makes life less puzzling and brings more peace with the wisdom you gain from reading her works. Sometimes you just want someone to give you wise counsel and this book is just that if you have a narcissist in your life.

Darlene Lancer helped open my eyes July 18, 2017 By Amazon Customer
Darlene Lancer helped open my eyes to the coping behaviors I adopted as a result of growing up with a narcissistic parent and then drawing in a narcissistic spouse. It definitely takes two hands to clap. I can see how I played into the hands of these unhealthy relationships. Her tools will help tremendously.

I didn't know any narcissists January 26, 2018 By Rocio
I intended to get a book to help me deal with difficult people…I contacted the author to tell her that I didn't know any narcissists…To my surprise a lot of the difficulty I was experiencing with others was related to narcissist traits, including my own. This book is gold and I've since been applying the techniques I learned to improve my relationship. The author responded promptly and is not only very knowledgeable but she's very approachable. I'm on a beautiful journey with myself and thankful for Darlene Lancer for her books. I'm currently reading self esteem book (10 Steps to Self-Esteem) and seeing more positive results in my life. I hope this book helps others who are also suffering and struggling.

Absolutely Essential Work! January 19, 2018 By Amir
Another amazing title by Darlene Lancer…the book combines a wonderful range of language for the mental health professional and layperson alike, and the content is delivered in a concise and authoritative writing style that provides both a birds-eye view of the subject and at the same time a thorough and in-depth understanding of the "big picture" and nuances of individuals who exhibit these personality traits, as well as those with whom such individuals may be involved interpersonally, whether as colleagues, acquaintances, friends, or romantic partners.

Great Book April 25, 2018 By Lootz
It's really hard in a relationship with a narcissistic person. It almost seemed like this author was talking about the relationship I was just in. I liked it so much, I'm about to start over and read it again!

Fantastic, Informative Read!! July 11, 2016, By Laura Stamps
This is an incredibly informative book! Narcissists are masters of emotional abuse. Darlene Lancer not only defines narcissism in this easy-to-use book, but she also covers the various forms of emotional abuse, how to set firm boundaries, and how to effectively deal with the narcissists in your life. Regain your self-esteem, self-worth, and learn how to love yourself again. Grab this book. It's a treasure!

Insightful for a beginner November 7, 2018, By Madalyn
This opened my eyes. I was blind-sighted by my boyfriend's narcissistic tendencies. It was quick to read and gives me opportunities to better myself and my partner with exercises I plan on undertaking at a later date.

Excellence and Enlightening October 12, 2015, By Xanthin D. Smith
Anything she writes, she writes with excellence and high intelligence. I highly recommend any and all of her great works.

Wisdom from an experienced Therapist November 11, 2020 By Chokelat
Helpful resource on its own in learning to deal with a narcissist. Even better in the Kindle version because it links to other helpful articles. Also a great bridge into therapy as it will bring a lot of insight to dig further with your own therapist.

Good book. November 3, 2021 By She Cat
Very informative and accurate. Great ways to help live. I really enjoyed the book

Five Stars February 17, 2016, By Anna
A set of valuable tips for anyone dealing with NPD in a relationship.

Great value for time and money January 27, 2016, By fldcdeb
Great assist for getting off of "stuck." Highly recommend.

Five Stars By Aimi Ho
Informative and relevant! Thanks a lot for this book! I love it.

8 Steps to dealing with a Narcissist December 17, 2015, By Jackie Paulson
Do you want to know how to deal with a Narcissist person? This book is a self-help guide that will help you journal questions and answers to help you with people with personality disorders or even finding out how your childhood could be the cause of your failed relationships in adulthood. Darlene Lancer will ask thought-provoking questions, give exercises to help you realize if a loved one is a narcissist with traits you will know or not after evaluating your own assessments covered in this book. I have learned more about myself and those around me by reading this book than if I did not. One great lesson is "Don't Take It Personally." If you think you or someone you know is narcissist person, has boundary issues, relationship issues, or a personality disorder then this book will help you learn how to deal with it in 8 easy steps. © 2015 Jackie Paulson
December 15, 2017, By Thomas Grahame (website)
I began to be aware that my wife was narcissistic some years ago, but this book confirms it. What a revelation to know I have not been imagining it or just seeing the bad side of her.
October 17, 2017, By Robert H Sayles (website)
This book . . . has a lot of good information but the 3rd chapter shocked me by telling my story. From the time I met my wife until now. What a revelation that was. I've been searching 23 yrs to find out what was wrong with me. I married a narcissistic. Darlene's books have given me the tools to protect myself.

Very Insightful April 3, 2019 By Melinda Mitchell
I really liked the descriptions of narcissistic behavior and how such behavior is created. It is so important to examine how you are co-dependent and to be responsible for yourself. The only person that you can change is yourself.
Dealing with a Narcissist – 8 Steps to Raise Self-Esteem and Set Boundaries written by Darlene Lancer, MFT, a Licensed Marriage and Family Therapist in Santa Monica, CA, and author of Codependency for Dummies