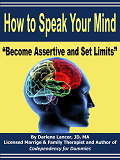 Codependent? August 21, 2014 By Amazon Customer "D."
I highly recommend this book. I found it very illuminating and helpful.

From an authority on assertiveness September 18, 2016 By J. Collins
A great book on how to become assertive and set limits. This book will help you set boundaries and become a better communicator.

Helpful even for people that think they're great communicators March 10, 2018 By Rockyzmama
Great for people that feel they're not being listened to.

Great Book! August 21, 2017 By Amazon Customer
Clear, to the point and incredibly informative. This book really helped me and it didn't take a lot of time to read.

Clear and easy to read, April 23, 2017 By Amazon Customer
I like the content of the book because it shows me a clear route map to follow and uses examples to illustrate the behavior. I've already recommended the book to a friend and my son. The book is very easy to ready and apply in everyday life.

Excellent! August 30, 2017 By Susan M. Gould
Excellent how-to with clear and concise steps. Just what I needed!

Highly Recommend, October 23, 2014 By Bernice M. Hatch
It's the perfect information I needed, and it is concise and easy to follow.

I enjoyed it. December 3, 2020 By Amazon Customer
I enjoyed it and got a ton of useful information from it. I feel I have been equipped with the tools to make a real difference.

Good Read June 20, 2020 By Avionna
This book gives a lot of pointers on ways to be assertive in many different aspects. I recommend it [to] anyone who wants to learn to be more assertive. . . it had a lot of different approaches and examples.

Great book August 22, 2013 By Lisa Salt Lake City, Utah
This book was to the point, direct, quick, and easy to read. It provides some great assertive communication tips.
Very helpful, discerning and thought-provoking August 13, 2018 By Lucja
Very helpful, discerning and thought-provoking. Invaluable insights and tips for anyone who struggles with low self-worth issues.

Quick and insightful April 7, 2021 By Rocco Capra
This was a quick and insightful read with easy concepts and skills to practice and learn to change your self-view from negative to positive

I think it was helpful September 14, 2020 By Kevin S.
I've had some trouble expressing boundaries and this book broke down some of the steps I'm doing wrong with them such as expressing them I'm anger [sic}. The exercises are good as they make you think about your answer.

Five Stars By Wish Bone on Scribd
Great book. I love the insights it offers. Very informational and full of good knowledge.

Five Stars September 2, 2017 By LK717
Very clear, concise, and empowering.

Practical in nature July 26, 2022
It facilitated critical introspection along with many epiphanies with its solid yet concise practical examples.

Good Information, July 6, 2019 By Judith Beardsley
The author presents the information in a concise manner with excellent examples given.

Five Stars, May 29, 2015 By Fabiana
Very helpful!!!!

Good short book, March 1, 2019 By Jacques Swanepoel
I enjoyed the straight to the point approach, this book taught me a lot on how to be assertive using a more efficient approach.

Highly Recommend, November 1, 2014 By Wisfarmgirl
Growing up, I did not learn any of these principles. They make do much sense in the way they are laid out in this book. I will be re-reading it several times so it really sinks in. It's going to be a lifelong resource that I keep handy! Many thanks to Darlene Lancer!

Worthwhile Purchase, November 16, 2014 by Mokuin
I liked and appreciated this succinct summary and overview of communication – plus it gave a couple of simple examples. At the price I felt this a worthwhile purchase. Putting the simple processes described into actual action is a much bigger project!

So totally needed this… September 22, 2015 By Angelica Coll
On the road to becoming more assertive…this was my first read and I've really enjoyed this. My next project is to read author's book on Self-Esteem.

Five Stars, September 26, 2017 By Wendy Shipman
Excellent and very helpful.

Precise & Straightforward, August 24, 2015 By n1tech
Love it and want to practice what I learned from this book.

Great book, August 22, 2013 By Lisa Salt
This book was to the point, direct, quick, and easy to read. It provides some great assertive communication tips.

Very helpful, Oct. 20, 2014 By Gerry Divine
It is [a] very good and highly insightful book. Very helpful self-development and counseling, good for coaching, and directing youths.

A Concise Easy to Read Guide, March 6, 2013 By Traveler
I found this little e-book to be extremely helpful. The author laid out, step-by-step, simple guidelines for speaking directly and simply in conversation and interaction. She goes over why we don't express our feelings and thoughts concisely or directly, then lays out a simple program for change: first spend time observing ourselves, our interactions, when we don't speak our truth. Write these interactions down, then practice. She gives guidelines for practice in concise terms. Very helpful for better communication in work and intimate relationships.

Concise and useful! January 22, 2017 By Amberlyn
The author communicated her points perfectly.

Quick informational read well worth the money, August 24, 2015 By Rebecca D.
Short and direct. A nice quick informational read that could help even the most assertive learn a thing or two. Well worth the minuscule amount it was.

Highly recommended. Useful advice for setting and communicating boundaries, August 21, 2014 By Linda Diane, Medical Writer
Darlene Lancer's e-book helps us avoid being pushed, coaxed, and manipulated, or merely saying yes when we would rather say no. Lancer begins with the critical distinction between assertiveness and aggressiveness. She emphasizes that assertiveness, while firm and positive, is also honest, courteous, and respectful. The author explores the reasons why many people fear or avoid being assertive. She then explains how, contrary to people's fears, assertiveness benefits one's relationships, job or profession, and personal health. This book provides abundant detail about the elements of assertiveness. It also offers many specific and practical techniques for effective assertive behavior and communication. What attracted me to this book was the phrase "Set Limits." This book affirmed the importance of boundaries and limits. It also offered practical and useful advice for setting, communicating, and maintaining boundaries and limits. I highly recommend this book. Potential benefits include healthier relationships, success in business, and improved emotional health.

Quick easy read with helpful tips and advice, December 21, 2015 By L.Marie
Very succinct and to the point with helpful tips and advice.

Short and sweet, April 19, 2017 By Sloane
Cuts to the chase and gives very practical advice.

Recommend How to Speak Your Mind – Become Assertive and Set Limits, March 9, 2015 By Art
Good Book! It's helpful to read it a couple times to absorb the information.

Boundaries March 25, 2017 By R. Bukowski
The book is direct and straight-forward – just like the advice.

Four Stars, December 18, 2014 by Jeanne Oyler
Great ideas. Thought provoking!

Helpful and informative, May 28, 2020 By Dominique
Very informative and easy to read.

Five Stars, October 12, 2014 by Rochelle Mann
Easy reading and very good material.

Five Stars, August 28, 2016 By 61buys
Very helpful.

Five Stars July 4, 2015 By Amazon Customer
Good book.

Five Stars
January 9, 2017 By Naraharisetty V. Raoon
Good.