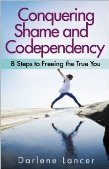 Amazing September 20, 2016 By BrwnSgr
This book is simply amazing. It is as if Lancer has been given insight into my soul. The exercises have helped me tremendously. This will be a "go-to" resource when I feel shame creeping back in. I recommend this book for all individuals who identify as codependent and/or recovering codependent.

A fantastic book October 12, 2017 By Ajani
This is a fantastic book that provided a number of insights and paradigm shifts, which undoubtedly shifted the course of my life for the better. Also, I have enjoyed my psychotherapy sessions with Darlene Lancer, as she is quite knowledgeable and easy for me to relate to.

The best of the best January 19, 2018 By S.C.
This book is OUTSTANDING!!! It covers so much in a straightforward way! I can't praise it enough! As someone who's been on the journey for a long time, I can tell you this book contains the best of the best! Thousands of dollars and many years in therapy in these pages (and that's only if you are lucky enough to have found an exceptional therapist). Just get it and start doing the exercises!

This book is by far the best. April 15, 2015 By Mel512
I've read several books trying to understand shame and its effect on individuals and relationships. This book is by far the best. She has deconstructed and described it beautifully. She offers very helpful insights, through her analysis of shame and codependence for anyone struggling to understand a narcissist in their life.

May 16, 2019 By Christopher Hiler
This book helped me conquer the root of all of my life's problems. I'm very thankful for this book. It helped me break a vicious cycle.

Highly recommended 30 June 2016 By Carrie (UK)
I can't recommend this book enough if you have codependency issues. It totally resonated with me and is the best book I have read on codependency. And I have read alot. Not only does it give you an insight into this deep-rooted issue but it guides you through steps to break free. My self-esteem vastly improved in days of reading this and I actually do feel freer.

Transformative June 12, 2017 By Luna
This book changed my life. My boyfriend said he saw a dramatic change overnight. I recommend this to anyone and everyone that struggles with addictive behaviors, are codependent, and/or struggling with feelings of shame. You can liberate yourself. There are also exercises to help you as you read through the book.

Incredibly insightful and helpful book! 8 August 2016 By Mags (UK)
This book is incredibly helpful and eye-opening to anyone who wants to heal their codependency. It's written with illuminating clarity and a solid structure which makes it easy to follow, despite the painful nature of the topic. The strategies and exercises included are simple yet profoundly effective. What stands out whilst reading this book is that it's written to maximize the healing benefit of the reader. Darlene is clearly an expert in this field, has a profound understanding of codependency and focuses on the practical aspects of the recovery. What makes this book even more effective is the fact that she conveys her knowledge with plenty of kindness and compassion. I highly recommend this book to anyone who wishes to gain a better understanding of codependency and heal their emotional wounds and relationships. This book is one of the best books on this topic out there and Darlene is one of the best authors in this field.

This is an excellent book! It has helped me overcome my anxiety, May 18, 2015 By Korryn Suprys
This is an excellent book! It's helped me overcome my anxiety shame in many aspects of my life. I highly recommend!

CHANGED MY LIFE September 7, 2018 By Nerdy Girl
Something has changed in me after reading this book. It has helped me not only understand myself, but also my abusers who took advantage of me because of my codependent tendencies.

Absolutely amazing January 13, 2018 By Cstringe
Absolutely amazing, dead on. I will be re-reading this book many times. Each chapter has exercises to work through which is immensely helpful in working through elements.

So "Spot On" that it's shocking! February 7, 2018 By Jeff Williamson
A genuine eye-opener. I've probably only read 15 books in my entire life (for pleasure). I wish I had read this one first. This book is so accurate, so "Spot On" that it's shocking. I continue to discover things about myself that just slap me right upside the head. If you've reached the point in your life where you are fed up with your self generated negativity and hopeless outlook on life, it's worth every penny and every minute of your time to read this book. You won't be disappointed. You will be moved to action.

An absolute gem! February 3, 2017 By Joanne Rose
Darlene Lancer has an incredible gift as a writer. I deeply connected with her writing. This book is an absolute gem and brought me immense comfort and understanding as I begin recovering from codependency.

Mar 26, 2020 By Prosperity's Abundance (Goodreads)
Darlene is a phenomenal author. This book literally changed my life and continues to have profound healing effects. . . I have transformed my perception and changed behaviors toward health. I praise Darlene for sharing such a timeless resource of medicine for all souls. And a heart soothing beacon of light for those wishing to start life anew in ways that are healthier… Eternal gratitude for the blessing of this wisdom. ~ Elmar

Best Author on Codependence…this booked helped save my life Dec. 9, 2018 By Angela Hayes
I was at the lowest point of my life, just after a suicide attempt, when I first read this book. I was comforted to know I wasn't suffering alone. I found strength in working through the steps in this book. . . I'm on my 3rd reading of this book. Darlene Lancer is THE expert on this topic. I have read several of her books…all amazing.

Transformational February 18, 2019 By Heather Humphries
I can't give thanks enough to God & the Universe for leading me to this book, and to Darlene for bravely sharing it. I'm releasing things that have been holding me back from living authentically & with true joy. What a blessing!

By far, the BEST book I've read about Shame and Codependency, October 14, 2021 By Billy Joe Jim Bob

Great book April 2, 2019 By Ginger Nichter
This book has been helping me so much!

Highly recommend it for codependents August 21, 2017 By Joy D. Thompson
FABULOUS BOOK! highly recommend it for codependents.

Great book for therapists and clients May 29, 2019 By Lisa Glendenning
Easy language so even clients can understand concepts. Love exercises at end of chapters. Great connections to past history and current defenses used.

ABSOLUTELY April 6, 2021 By Therese Byrne
THIS BOOK changed my life! It was a miracle I even found it—let alone read it. The author opened my mind and heart and exposed ME front and center. It was painful to read so I did not read it too fast because the topics were huge and heavy. Yet the author lifted them right out of my soul. Highly recommend it—if you're ready to let light shine on some dark corners. Wow. Healing. Yes!

Got to the nitty gritty April 18, 2016 By Marsha Jauregui
I enjoyed the explanations it gave on the different types of codependents. It was very informative (more) than any other codependent book I have read. The activities to eliminate shame and guilt helped me so much and something I'm going to continue doing. It took me further in my path to recovery.

This book changed my life. January 10, 2018 By Amazon Customer
The first two chapters make you think, "Oh gosh, I am so messed up." Then the third chapter you are relieved, "Oh, everyone is messed up. Whew." Then the rest is very practical. It is life-changing.

Highly recommend it. By Angela Polasky
It has been an invaluable tool to understanding why my partner and I have had so many issues in our relationship. Highly recommend it.

A book that offers clarity for human relationships 27 April 2016 By Steven Lane (UK)
This book offers both clarity and depth, Darlene has a very human(e) and direct writing style which helps to digest a subject that can be 'difficult reading'. This is a fabulously practical and insightful book for both personal and professional development, I have found benefit in both areas of my life. This book has supported me in working on my own shame and codependency and more generally in developing healthier relationships.

Incredibly Illuminating February 9, 2021 By Anke Beard
This book has been an extraordinary help not only personally, but in my work as a mental/behavioral health therapist. It feels like the concepts Ms. Lancer outlines and explains in user-friendly language are a missing link in the modalities and techniques we learn as professionals. Clients are responding very positively to the concepts and information, and the questions at the end of each chapter and in the final chapter help enrich and inform sessions. I highly recommend this book for both self-exploration and to deepen your work if you are in the mental/behavioral health field!

Very good book! January 27, 2021 By Amazon Customer
This is a very good book and has helped me tremendously with healing. I grew up in a traumatic home and developed CPTSD as a result. I have gone to several therapists and the material in this book was some of the most helpful!

Packed with Information August 17, 2016 By Amazon Customer
Excellent book provides insight into shame. I've read other books on shame but this one "clicked" for me.

Second personal development book that I have benefited from August 17, 2016 By Linsey Culkins
I purchased this after following Darlene Lancer's blog. I still love the blog, and now I love this book.

Insightful and practical ways to overcome shame, October 12, 2014 by Steve Heller
Great book. A must-read as shame is a topic that everyone has experienced or knows someone who has. The book offers an in-depth look at what it is, the ineffective ways that we try to avoid feeling its pain, the damage it does in relationships and steps to overcoming it and finding your true self. I've read Brene Brown's work, which is research-based and good and Darlene Lancers' book offers so much more insight and practical guidance mined from her years of experience as a therapist. If you want to have healthier relationships and live a happier life, this book is a great tool!

Life changing for sure Aug. 23, 2020, By Salsa UK
This book explains so much with such clarity that I have not been able to access elsewhere. Better than the counseling I tried and cheaper.

Queen of shame author Feb. 4, 2018 By V., UK
The author knows her subject comprehensively and this is one of the best books I have read on shame.
She lays it out like a scientist and knows every nook and cranny on her subject matter.

Sorted Me Right Out
Jan. 27 2022 By PLC
Well written, very useful information, deeply resonated with me. Now I understand how I got to be how I am, and how to accept myself, forgive myself, and improve my behavior issues. Very encouraging!

Comprehensive and easy to ingest August 12, 2015 By Christopher Green
This book covered all the major areas of shame and codependent behavior and kept the focus on the reader. It provided comforting statements, practical exercises, and a tremendous amount of insight. If you read just one book on codependency this could be it.

This thrusted my journey on healing September 21, 2015 By Mike
I have read many books on self-esteem and shyness. Even though I suffer(ed) from self-esteem and social anxiety issues, the books just didn't connect with me…I started reading this book and immediately I felt a very strong connection with what Darlene was writing about on shame and codependency. I was made to know that codependent relationships can be substance abuser/rescuer OR accommodator/taker. That was me, I was the accommodator (Mr. Nice Guy). This thrust my journey on healing my ailment of self-hatred and shame. This book is very well written and straight forward.

Excellent, clear, January 4, 2016 By Sula
Excellent, clear, precise…shows how codependency is a consequence of abuse and the toxic shame it causes and how to easily and effectively address it. Full of Darlene's awesome and practical tips, lesson, and tools one can use immediately! ~Evelyn Ryan, Author

Amazing book, December 18, 2015, By Teena
Let a client borrow this and she said it is an amazing book that has helped her a lot.

Life-Changing 28 August 2016 By Penman (UK)
This book is truly amazing. It really gets down to the early roots of shame…in terms of understanding what's going on it's unparalleled.

Love this book May 3, 2017 By Nena
Love this book! It talks about codependency in a completely different manner than I've ever read. It's deep and it really helped me understand where my codependency stems from. Must read!

The subtitle is honest January 12, 2017, By George Mchugh
The perfect book for this moment in my life. It empathizes deeply with the reader who is suffering from repressed shame. Doing the exercises at the end of each chapter has been great for my self-reflection.

Amazing book March 27, 2017 By Smur
Amazing!! This was a great read. Really got to the root of codependency. I learned so much.

This book is a wonderful read. December 25, 2017 By Lina
This book is a wonderful read. It links shame and codependency in an unprecedented way that really helps with self-examination.

If you look to others for approval April 25, 2019 By Amy Rachell
What an amazing healing is happening for me. It's very key, just having the insight that a core sense of shame was at the root of a broken way I was choosing how to live my life.

Great book Feb. 22, 2017 By Gabriel C.
This is a great book. Author Darlene Lancer really breaks down in detail what codependency and how to recover from it. I definitely recommend.

Highly recommended 13 May 2016 By Natty (UK)
Excellent knowledge & wisdom. A book to refer to periodically. Thanks Darlene

Very informative, insightful & practical book! July 9, 2017 By Susan
Excellent content & helpful application points! Highly recommend!

Good book, best I have found so far, January 19, 2016 By Bonita BitemeAlphbets
My husband and I are going through this book. It isn't something we are taking lightly. Good book, best I have found so far in Codependency. I have unhooked several triggers in my life so far from the second go around with Conquering Shame and Codependency.

From A Codependent Author and Fan, July 24, 2014 By Lisa A. Romano
As an author, life coach, advocate and mentor to those suffering from the web of confusion and self sabotage codependent thinking is–I make it a point to read as much information as I can by others who share my same mission in life . . . Darlene Lancer's approach is quite thorough and I believe deals head on with the topic of shame that in many ways causes beings to stay stuck in the negative loops codependent thinking is. As Darlene breaks the concepts down, the reader begins to soften its hate towards the innocent Self–and in so doing–Darlene is able to send her healing intent directly to the heart of her reader right where the healing journey must begin. GOOD JOB DARLENE!!!! Namaste…

Excellent and Intelligently Written July 12, 2016 By Eugenia
This book points out (shame) many forms. The author also gives you some guidelines as to how to reduce this saboteur. Plainly written and easily understood. An excellent book. I highly recommend it.

Terrific Book for Loved Ones of Addicts and the Mentally Ill, January 13, 2015 By Suzanne Miller "Concerned Spouse"
As a "self-help" author and addiction specialist, I always appreciate when a book this clear and useful comes along. Kudo's to the author for capturing the struggle of so many who give away their love with little but pain in return.

Excellent book July 1, 2017 By TifM
Excellent book that I'm working through. It's hard work as you unravel some things from your past but it's so worth it. Already am able to have a better outlook for my future.

Five Stars November 11, 2017
Highly recommend – can't wait to reread at a later time.

A must read October 3, 2018 By Kerry
This book is life-changing for me. I've struggled with codependency all of my adult life. . . Clear as day now – shame has been handicapping me in relationships and friendships. This book is clear on how to identify shame and to address it along with the old messages we sometimes don't even know are there.

AWESOME BOOK, VERY HELPFUL!! November 6, 2018 By Heather D. Beachy
Going to many counselors that did not really know much about codependency made it very difficult to figure out just how to work towards a better ME!! This book did just that, plus it was a very easy read.

One of three books EVERYONE would ever need in life. April 27, 2021 By Canadian Ambivert
This book is one of the three books anyone will ever need in life (whether you are mentally "well" or not). Darlene Lancer is an ORACLE and incredibly talented and discerning with her mind, thoughts, and heart. I've read hundreds of books over the years, but have never written a book review. Darlene's book is a must read.

Well thought out, insightful and often quite disturbing November 22, 2016 By Sancturian
It is well thought out, insightful and often quite disturbing. I say disturbing as the revelation of personal truths can sometimes be hard to take. Another book by Darlene Lancer that I would recommend before this one, Codependency for Dummies, which I found more structured and to my liking. Make no mistake, however, this book will enlighten you on parts of yourself you didn't know existed. It will explain why things go wrong in all areas of your life and what you can do to correct them. In summation, if you want a book to help you understand codependency, Darlene Lancer is the author for you.

Knowledge and steps for addressing codependency October 17, 2017 By Grycen
Darlene Lancer's book breaks down the strong connection between shame and codependency and provides an actionable set of steps and activities to begin healing those wounds that we carry so deeply. If you've ever struggled with any form of codependency, I highly recommend this book.

A Life-Changing Liberating Book April 21, 2015 By Chartered Psychologist (England)
I recently found this brilliant book by Darlene Lancer and quickly realized it is probably the best 'self-help' book I have ever read, recommended or used (over a period of 40 years as a Psychologist). Both content and process are spot on and it is also a very readable and useful book. It covers the shame experience and escaping shame…Darlene explains the concrete steps we can all take to let go of shame and live a more fulfilled and zestful life. Whether you are a mental health practitioner or an individual looking to live a more fulfilling life this book can help you heal shame and codependency… This is a life changing book which everyone should read. This is likely to be the best money you have ever spent.

Highly recommended for anyone who struggles with shame and codependent behaviors
, January 1, 2015 By Julie M. Simon, MA, MBA, LMFT, Author of The Emotional Eater's Repair Manual: A Practical Mind-Body-Spirit Guide
In Conquering Shame and Codependency, Darlene Lancer has provided a practical prescription for healing that is clear, frank and effective. The book offers an in-depth look at shame and the maladaptive coping patterns we use to try to avoid feeling it. Both easily readable and scientifically grounded, Darlene offers eight key steps (and easy-to-follow exercises) to heal our shame, learn to love ourselves, develop self-and-other compassion and create healthier relationships.
Particularly helpful is the way the book sheds new light on how shame and codependency feed off one another. Throughout the book, Darlene weaves in concepts of self-esteem, personal boundaries, self-defeating thinking, emptiness, loneliness, and so much more. And she uses lots of charts and helpful graphics to help the reader understand key concepts. As an overeating therapist who works with shame and codependency on a daily basis, I plan to recommend this book to many of my clients. The book is a good resource for clinicians and lay persons alike. Thank you Darlene!

Essential Reading for Recovering Codependents and Professionals, August 27, 2014 By Marc Kantor
I picked-up Darlene Lancer's book, Conquering Shame and Codependency, simply by chance on my way to the airport, and it turned out to be a tremendous gift for myself and for my clients. As someone who works with codependent individuals on a daily basis, I am constantly discussing the concepts around personal boundaries, building self-esteem, overcoming feelings of shame, and breaking the cycle of codependency. Darlene eloquently addresses these common challenges in her book in a way that is easy to understand and identify with as the reader's own behaviors. I have thoroughly enjoyed reading Conquering Shame and Codependency and highly recommend it to others. Marc Kantor is a professional drug and alcohol interventionist living in Washington, D.C.

Conquering Shame and Codependency, June 25, 2014 By John McAndrew
Darlene Lancer's new book, Conquering Shame and Codependency, is like finally diving into the deep end of the pool. The topic of Shame and codependency are not easy to talk about, or define, and scary for most of us. I think we are beginning to see shame as the underlying issue in many of our lives. She has opened up my eyes in a very simple way, and offered some easy practices to see it, name it, and heal it. Her body of work really makes a difference in the world of recovery.

Wonderful instructions to find my true self., Sept. 17, 2018 By Rose Nemes-Oslica
I would highly recommend this book…It's very informative and easily understood.

Five Stars June 29, 2015 By "Maltinsky"
Almost every page had useful information. My highlighter was busy!

Excellent book for someone new to Codependency March 13, 2018 By Damon N.
I discovered Darlene Lancer from her YouTube videos…I am so impressed with her 'easy to read' style and examples of how shame and codependency is defined. I have gained a greater understanding of my codependency and understanding my core self – how I have abandonment my true self. This is a new topic for me and I could not recommend her book enough for a newbie on this topic.

This is professional counseling–and its the best I've found November 13, 2016 By Lee Bee
So helpful, so practical. The clear analysis and examples of the myriad of dysfunctional dialogues + behaviors you have experienced and participated in, turn your mind from obsessing to honestly seeing and understanding the patterns + triggers. You can then begin empathizing with yourself and a new mindfulness begins to grow once you start dealing with the work you need to do in the exercises. I found this a true comfort and calm relief from the labyrinth of rumination and helped me to really get an almost immediate grip on my own despair and the resentment I held for my partner. I'm so thankful I found this.

The Insanity of Trapped Shame August 2, 2015 by Michael E. Kaplan
…As an adult, I felt that somehow I was hard-wired to feelings that seemed to trigger and activate behaviors that I didn't understand. The following are just a few of the examples of what I mean: Why do I withdraw and sometimes even isolate whenever I am criticized? Why do I have a need to people please? Why do I hold back my own opinions, and even fear rejection, particularly around other men? I was usually confused about my identity and why I continued these behaviors! I had noted her success with her book entitled Codependency for Dummies and liked her knowledge and depth of understanding codependency and also her writing style. I purchased 6 copies, keeping one for myself. I gave two family members and 3 friends a copy and asked all 5 of them to join me reading, discussing and sharing as best we could. As I read, worked and shared, I found a deep rooted shame based set of behaviors that I could understand. Lancer's 8 steps outline [is] a process for uncovering, sharing, letting go, rebuilding my self-esteem and love for myself. Is this a powerful book? It is life-changing!! Thank you Darlene Lancer!

Focuses on building your self-esteem Jan. 22, 2015
I stumbled across Darlene's website when googling 'emotional unavailable men.' Then came across her blog and opened up to many people in my predicament, meeting someone they thought was real, setting up and falling in love with a strong connection then to have it either fade or being promptly abandoned and you're left hurt and bewildered, believing the emotional connection was real. Her book is a real study of how and why we make these connections. For me it is down to a low self-esteem believing we are not worthy of love and attracting someone who 'treats us as though we are unworthy of love and respect – just as we treat ourselves….We can only receive as much love as we feel we deserve.' This resonated with me. It also touches on those who either pursue or avoid intimate relationships (cling versus cold/distant) Her book has many exercises to work through so if you prepared to study your true self, you are on your way to recognizing and conquering past relationship habits that are not healthy.

AWESOME BOOK, VERY HELPFUL!! November 6, 2018, By Heather D. Beachy
Going to many counselors that did not really know much about codependency made it very difficult to figure out just how to work towards a better ME!! This book did just that, plus it was a very easy read.

Five Stars July 10, 2014 By Ann Haynes
Awesome. Darlene gets to the truth of dysfunctional behavior which affects peoples lives.

Highly recommended November 29, 2017 By Sarah Floyd
Excellent book with very valuable & potentially life & relationship saving insight.

Bought this for someone in my family and they liked it so much I read it, Sept 3, 2014 By Gina-Marie
I bought this for someone in my family and they liked it so much I read it. Great book.

I was trying to find resources May 9, 2018 By Scot Lee
I was trying to find resources for what I was experiencing in my girlfriend's behavior when I found Ms Darlene's articles. I started seeing that we were both exhibiting codependent behaviors, myself at least as much as her. I bought Conquering Shame book and found it very healing for myself so I bought a copy for my girlfriend as well as one for my 22-year-old son as he was exposed to much of this behavior of his mom and I growing up. This book truly resonated with me and I am most appreciative for the insights I have gained.

Five Stars, December 16, 2017 By CaroGal
It has really set me in the right direction. I was so lost.

Five Stars, February 24, 2015 By Jane Elizabeth Hatcher
Brilliant insight into personality types and the deeper causes of neurosis and psychosis.

Fantastic book for mental health, December 20, 2021 By K
Fantastic book for mental health. This book taught me amazing things about mental health as it pertains to codependency and gave me actionable ideas for progressing.

 A lot of important information, November 5, 2021 By Paul
Conquering Shame and Codependency has a lot of important information…from amazing knowledge, experience, and research. I like that she shared personal experiences.

 Very helpful and easy to understand. August 27, 2021 By Mario Lopez
A thoroughly researched and easy to understand overview of the nature of Shame, it's various disguises, and it's step-sibling, Codependency. Eye-opening, insightful. Very useable! A great primer on a subject, often taboo and common to everyone.

 Great book. May 27, 2021 By Barbara
Very straightforward no-nonsense account on shame and codependency.I'm finding this book extremely helpful.

This is an excellent aid to understanding shame April 12, 2015 By Wevetson
This is an excellent aid to understanding how shame, often born of experiences in one distant and unremembered past, can come to be a strong determinant in one's present life.

Five Stars, October 16, 2014 by Melissa Gharst
Great book.

This book was written for me, about me, April 20, 2015 By Chris McElhill
At last.

Five Stars, November 15, 2017 By Ginny B.
This book should be read by everyone.

I thoroughly recommend this book to therapists November 16, 2015 By Saal S. (UK)
Very well written book. It holds the readers hand, and takes them safely through an area which is very difficult to discuss and bring into consciousness. I thoroughly recommend this book to therapists, but more so for vulnerable patients, as it is very gentle, and readers can go at their own pace.

Help With Recovering Your True Self, July 25, 2014 By Lisa Frederiksen –
Darlene Lancer's 29 years experience working with individuals crippled by shame and codependency (for which shame is typically the primary cause) and her empathetic, "been where you are" voice makes her latest book a must read for just about everyone. For as one will soon self-identify while reading her definitions of shame, it is an emotion many of us have grappled with – often throughout our lives. But with that realization and then following Darlene's exercises to challenge it, as well as her steps to heal it, readers will find her book invaluable in their journey to conquer it and codependency to recover their true selves. Having done work similar to that which Darlene describes in her book to heal the impacts of four decades of coping with various family members and friends' alcohol abuse and alcoholism, I can honestly say recovering my true self has made my life, today, something far beyond anything I could have imagined. Highly recommend!

Conquer Codependency, Conquer Shame, Get on with Your True Self, August 23, 2014 By Jackie Paulson "Addicted to Reading"
Yes, steps to get over codependency. I loved the chart on page 129:
Codependent relationships:
• Intense attraction
• Idealize each other and ignore difference
• Fall in love and make commitments
• Get to know each other
• Become disappointed
• Cling to romantic fantasy of love
• Try to change partner into ideal
• Feel resentful and unloved
That did it for me, because then you learn how to become whole and have healthy relationships. The information in this book was beyond my expectations, and I learned more about shame and how it can stem from childhood onto adulthood. This is my top ten list of favorites for 2014. © 2014 Jackie Paulson

Conquering Shame and Codependency, February 12th, 2015 By Nancy Price
Of all the codependency books I have reviewed recently, this is the one I chose to use for sponsorship. The added emphasis on Shame was what reeled me in to my choice.

I love it, September 6, 2014 By Philippa
Excellent book for those struggling with the past.

Lancer's landmark book examines the root of shame and its connection with codependency. It offers tools for healing from shame. June 22, 2014 By Terry Gaspard, MSW, LCSW
Darlene Lancer's breakthrough book sheds new light on the complicated topic of shame – an often misunderstood emotion. It offers eight key steps to heal from shame, learn self-love, and begin the journey of developing healthy relationships. While everyone deals with shame, not many people understand it or acknowledge it.
I agree with Lancer that shame is often silent and self-inflicted – yet still has a powerful impact. Shame can cause us to stay stuck in unhealthy relationship patterns if we don't heal from it. I found this book informative because I grew up in a dysfunctional, divorced family and have experienced shame but never understood how it contributed to my codependent tendencies. After all, self-awareness is the first step in the process of change. It will also provide a valuable resource for my clients who have endured the divorce experience and often feel shamed and powerless to move on with their lives. This book is an excellent resource for both mental health providers and the general public.

Five Stars July 12, 2015 By Donna Youngers
Excellent. Wish I knew about this stuff years ago.

Moving Forward July 9, 2015 By Charlotte
Excellent book to help in recovery and move forward with our lives. Easy to read and understand and now it is up to us/me to follow the steps.

Succinct and easy to read August 21, 2017 By Jacqueline M. Ostrom
Very clear, succinct and easy to read. Extremely helpful!

Recommended, slow and emotional May 17, 2016 by Pissy Krissy
CBT Therapist suggested this reading. I highly recommend this book, as well as podcasts and attending CoDA.

Read and Feel February 26, 2017 By Amazon Customer
If you are or wish to be true to yourself, if you wish to discover how shameful you are and reduce it, read the book but do it slowly. It's very important to feel every situation every time the book triggers you

Love Yourself May 23, 2016 By R. Bukowski
This book puts it home that loving oneself is the solution to self-care. Our usefulness to others cannot determine the love we have for ourselves.

Four Stars May 25, 2016 By Andrew S
Great read. Very informative and gives examples to drive points home.